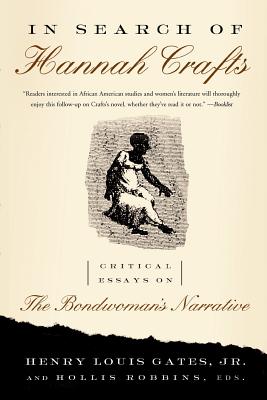 In Search of Hannah Crafts (Paperback)
Critical Essays on the Bondwoman's Narrative
Civitas Books, 9780465027088, 480pp.
Publication Date: December 1, 2004
* Individual store prices may vary.
Description
Three years ago, Henry Louis Gates, Jr. discovered an unpublished manuscript, The Bondwoman's Narrative, By Hannah Crafts, A Fugitive Recently Escaped From North Carolina, which turned out to be the first novel by a female African-American slave ever found, and possibly the first novel written by a black women anywhere. The Bondwoman's Narrative was published in 2002. In Search of Hannah Crafts now brings together twenty-two authorities on African-American studies to examine such issues as authenticity, and the history and criticism of this unique novel, including Nina Baym, Jean Fagan Yellin, William Andrews, Lawrence Buell, Karen Sanchez-Eppler and Shelley Fisher-Fishkin.The Bondwoman's Narrative will take its place in the African-American canon, and In Search of Hannah Crafts is the book that scholars and students of African-American Studies, of women writers, and of slavery, need to have to understand this unprecedented historical and literary event.
About the Author
Henry Louis Gates Jr. is W.E.B. Du Bois Professor of Humanities, chair of the Afro-American Studies Department, and director of the W.E.B. Du Bois Institute for Afro-American Research at Harvard University. Hollis Robbins, a doctoral candidate at Princeton University, received a Masters in Public Policy from the Kennedy School of Government at Harvard University and is author of Flushing Away Sentiment: Water Politics in Edith Wharton's The Custom of the Country. She lives in Princeton, New Jersey.