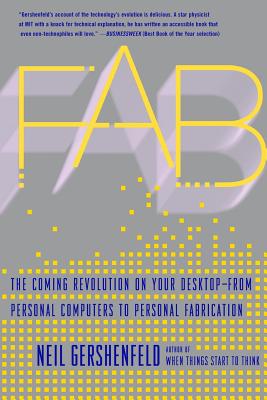 Fab (Paperback)
The Coming Revolution on Your Desktop--from Personal Computers to Personal Fabrication
Basic Books, 9780465027460, 288pp.
Publication Date: February 6, 2007
Other Editions of This Title:
Hardcover (4/1/2005)
* Individual store prices may vary.
Description
What if you could someday put the manufacturing power of an automobile plant on your desktop? According to Neil Gershenfeld, the renowned MIT scientist and inventor, the next big thing is personal fabrication-the ability to design and produce your own products, in your own home, with a machine that combines consumer electronics and industrial tools. Personal fabricators are about to revolutionize the world just as personal computers did a generation ago, and Fab shows us how.
About the Author
Neil Gershenfeld is the Director of MIT's Center for Bits and Atoms, and the former director of its famed Media Lab. The author of numerous technical publications, patents, and books, including When Things Start to Think, he has been featured in media such as the New York Times, The Economist, CNN, and PBS. He lives in Somerville, Massachusetts.