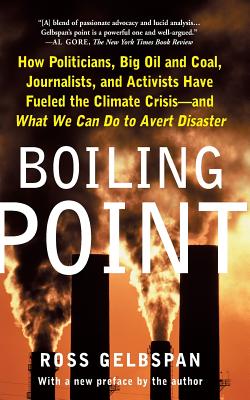 Boiling Point (Paperback)
How Politicians, Big Oil and Coal, Journalists, and Activists Have Fueled a Climate Crisis -- And What We Can Do to Avert Disaster
Basic Books, 9780465027620, 288pp.
Publication Date: November 8, 2005
Other Editions of This Title:
Hardcover (8/1/2004)
* Individual store prices may vary.
Description
In Boiling Point, Ross Gelbspan argues that, unchecked, climate change will swamp every other issue facing us today. Indeed, what began as an initial response of many institutions -- denial and delay -- has now grown into a crime against humanity. The fossil fuel industry is directing the Bush administration's energy and climate policies-payback for helping Bush get elected. But they're not the only ones to blame: the media and environmental activists are unwittingly worsening the crisis. In his new introduction, Gelbspan reveals that the outlook isn't getting better. The climate continues to change with increasing acceleration: hurricanes devastated Florida; rainfall patterns left two million people starving in Kenya; 2004 was the fourth hottest year on record. At the same time, the coal industry was planning to sabotage an effort in the Senate to begin to regulate carbon dioxide. Officials of Switzerland, France, and Canada said last year that, when the Kyoto Protocol takes effect, they intend to take the United States to court under the World Trade Organization, reasoning that the U.S.'s refusal to lower their carbon emissions amounts to an illegal subsidy-a "carbon subsidy"-on its exports. With the reelection of George W. Bush and a Republican-controlled congress, Boiling Point is more imperative than ever. Both a passionate call-to-arms and a thoughtful roadmap for change, Gelbspan reveals what's at stake for our fragile planet.
About the Author
Ross Gelbspan has been an editor and reporter at the Village Voice, and the Washington Post. He covered the U.N. Conference on the Environment in Stockholm in 1972, and addressed the World Economic Forum in Davos in 1998. As special projects editor of the Boston Globe, he conceived, directed and edited a series of articles that won a Pulitzer Prize in 1984.