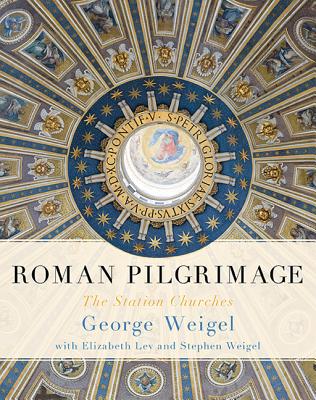 Roman Pilgrimage
The Station Churches
Hardcover

* Individual store prices may vary.
Other Editions of This Title:
Digital Audiobook (10/28/2013)
Compact Disc (10/29/2013)
MP3 CD (10/29/2013)
Compact Disc (10/29/2013)
Description
A preeminent scholar of Catholicism transports readers to Rome for the traditional station churches pilgrimage, offering a vivid and informative guide to the Eternal City and the Lenten season.

The annual Lenten pilgrimage to dozens of Rome's most striking churches is a sacred tradition dating back almost two millennia, to the earliest days of Christianity. Along this historic spiritual pathway, today's pilgrims confront the mysteries of the Christian faith through a program of biblical and early Christian readings amplified by some of the greatest art and architecture of western civilization.

In Roman Pilgrimage, bestselling theologian and papal biographer George Weigel, art historian Elizabeth Lev, and photographer Stephen Weigel lead readers through this unique religious and aesthetic journey with magnificent photographs and revealing commentaries on the pilgrimage's liturgies, art, and architecture. Through reflections on each day's readings about faith and doubt, heroism and weakness, self-examination and conversion, sin and grace, Rome's familiar sites take on a new resonance. And along that same historical path, typically unexplored treasures-artifacts of ancient history and hidden artistic wonders-appear in their original luster, revealing new dimensions of one of the world's most intriguing and multi-layered cities.

A compelling guide to the Eternal City, the Lenten Season, and the itinerary of conversion that is Christian life throughout the year, Roman Pilgrimage reminds readers that the imitation of Christ through faith, hope, and love is the template of all true discipleship, as the exquisite beauty of the Roman station churches invites reflection on the deepest truths of Christianity.
Praise For Roman Pilgrimage: The Station Churches…
"If you're not in Rome, the next best thing is reading Weigel and Lev's text and taking in Stephen Weigel's evocative photos. Anyone interested in Catholic spirituality and the significance of the Lenten season will find Roman Pilgrimage absorbing reading."—Boston Globe

"This is a unique guide book, referencing not only theology but the history of Western art, modern and post modern literature, urban history, and church history. Valuable to believers, scholars, students, armchair travelers, and those planning pilgrimages following Phil Cousineau's guides."—Booklist

"While no replacement for an actual pilgrimage, Weigel's reflections allow one to enter into the spirit of the Lenten experience of conversion.... Although heavily Catholic in tone, the book will appeal to any Christian seeking to experience somewhat the pilgrimage that many have followed to prepare themselves to celebrate Easter."—Library Journal

"[Roman Pilgrimage] features biblical exposition, stunning photographs, and expert historical comment. But this publication is neither a mere guide for tourists nor a handbook for antiquarians. Rather it is a manual of Lenten faith: an invitation to the spiritual landscape of martyrdom, pilgrimage, prayer, and lectio divina."

"Obviously, anyone traveling to Rome should not leave home without it.... But even for those not able to be physically in Rome, Roman Pilgrimage: The Station Churches is a kind of spiritual travelogue that will take the reader on an inspiring Lenten journey of faith and renewal."—Catalyst

"[A] comprehensive, visually appealing work. Weigel's Lenten tour of Rome acts as part travelogue and part theological primer, and he introduces readers to some of Rome's most splendid and historically significant places of worship.... Engrossing, expansive pictorial study on a renewed Lenten discipline at the heart of Roman Catholicism."—Kirkus

"George Weigel's new book Roman Pilgrimage, done in collaboration with Elizabeth Lev and his son Stephen, provides nourishment for both the inquirer and the believer, from a city whose bread and butter is Catholicism."—National Review

"Enhanced by beautiful photographs from Stephen Weigel (George's son) and commentary from art historian, Elizabeth Lev, the book is part devotional, part history guide. And even though I have returned home from my own trip to Rome, thanks to this wonderful new work, this pilgrim's journey is really just now beginning."—Catholic World Report
Basic Books, 9780465027699, 464pp.
Publication Date: October 29, 2013
About the Author
George Weigel is distinguished senior fellow of Washington's Ethics and Public Policy Center and one of America's leading public intellectuals. The first volume of his biography of Pope John Paul II, Witness to Hope, was a New York Times bestseller, and his writing appears regularly in a variety of publications, including the Wall Street Journal. He lives in North Bethesda, Maryland.

Elizabeth Lev is an American-born art historian living in Rome. She teaches art history at Duquesne University's Italian campus and the Pontifical University of St. Thomas Aquinas. She is the author of The Tigress of Forlì: Renaissance Italy's Most Courageous and Notorious Countess, Caterina Riario Sforza de' Medici.

Stephen Weigel is a professional photographer and the principal of Stephen Weigel Photography.
Coverage from NPR
or
Not Currently Available for Direct Purchase