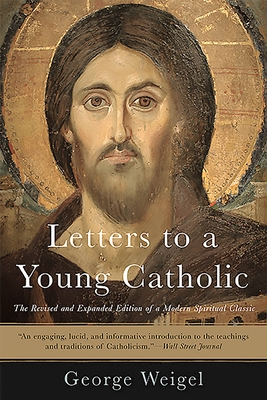 Letters to a Young Catholic
Paperback

* Individual store prices may vary.
Description
For the faithful, the doubtful, and the searchers of every age, these letters convey the power of the Catholic faith that is at once personal and universal, timely and eternal.

In this remarkable exploration of the Catholic world, prominent Catholic author and papal biographer George Weigel offers a luminous collection of letters to young Catholics, not-so-young Catholics, and curious souls who wonder what it means to be Catholic today.
Weigel takes readers on an epistolary tour of Catholic landmarks -- from Chartres Cathedral to St. Mary's Church in Greenville, South Carolina; from the Holy Sepulcher in Jerusalem to G.K. Chesterton's favorite pub in Oxford; and from the grave of a modern martyr in Warsaw to the Sistine Chapel.

Weaving together insights from history, literature, theology, and music, Weigel illuminates the beliefs that give Catholicism its distinctive texture and explores the theological importance of grace, prayer, vocation, sin and forgiveness, suffering, and -- most importantly -- love. To a world that sometimes seems closed and claustrophobic, he suggests, Christian humanism offers a world with windows and doors -- and a skylight.
Praise For Letters to a Young Catholic…
"An engaging, lucid, and informative introduction to the teachings and traditions of Catholicism."
—
Wall Street Journal
"If I weren't a cradle Catholic, George Weigel's
Letters to a Young Catholic
might make me want to convert."—
Washington Post
"'Great Expectations,' in fact, could be Weigel's subtitle, for that is what he hopes to inspire in youthful souls with his graceful meditations on truth, beauty, and love."
—
Claremont Institute Review
"I expect
Letters
will be a long-time Catholic-culture classic."—
National Review
"This is a luminous work that would appeal to anyone interested in faith, hope, and life itself."
—
Booklist
Basic Books, 9780465028320, 368pp.
Publication Date: August 11, 2015
About the Author
George Weigel is distinguished senior fellow of Washington's Ethics and Public Policy Center and one of America's leading public intellectuals. The first volume of his biography of Pope John Paul II, Witness to Hope, was a New York Times bestseller, and his writing appears regularly in a variety of publications, including the Wall Street Journal. He lives in North Bethesda, Maryland.