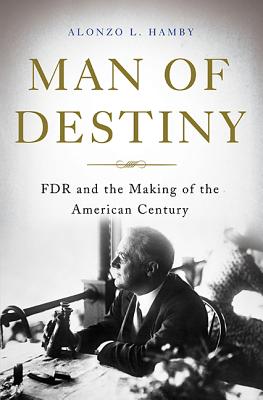 Man of Destiny
FDR and the Making of the American Century
Hardcover

* Individual store prices may vary.
Description
From an acclaimed historian comes an authoritative and balanced biography of FDR, based on previously untapped sources

No president looms larger in twentieth-century American history than Franklin Delano Roosevelt, and few life stories can match his for sheer drama. Following in the footsteps of his Republican cousin President Theodore Roosevelt, FDR devoted himself to politics as a Democrat and a true man of the people. Eventually setting his sights on the presidency, he was elected to office in 1932 by a nation that was mired in the Great Depression and desperate for revival.

As the distinguished historian Alonzo Hamby argues in this authoritative biography, FDR's record as president was more mixed than we are often led to believe. The New Deal provided much-needed assistance to millions of Americans, but failed to restore prosperity, and while FDR became an outstanding commander-in-chief during World War II, his plans for the postwar world were seriously flawed. No less perceptive is Hamby's account of FDR's private life, which explores the dynamics of his marriage and his romance with his wife's secretary, Lucy Mercer. Hamby documents FDR's final months in intimate detail, claiming that his perseverance, despite his serious illness, not only shaped his presidency, but must be counted as one of the twentieth century's great feats of endurance.

Hamby reveals a man whose personality -- egocentric, undisciplined in his personal appetites, at times a callous user of aides and associates, yet philanthropic and caring for his nation's underdogs-shaped his immense legacy. Man of Destiny is a measured account of the life, both personal and public, of the most important American leader of the twentieth century.
Praise For Man of Destiny: FDR and the Making of the American Century…
"A straightforward, 'flesh-and-blood' study of the president that underscores the depth and ambiguity behind the charming facade."—Kirkus Reviews

"A reliable one-volume introduction to the ebullient New York governor who became the 32nd president of the U.S."—Publishers Weekly

"[A] splendid book.... This is as much a story of a man's obsessive determination as it is a political biography."—Weekly Standard

"[Man of Destiny] offers several interesting insights into Roosevelt as a man and as a politician... an easily digestible, well-researched account that is ideal for general readers."—Booklist

"Mr. Hamby's Man of Destiny: FDR and the Making of the American Century, is a useful critical introduction to this most maddeningly elusive of presidents." —Wall Street Journal

"No one has written with greater authority on American political leadership in the 1930s and 1940s than Alonzo Hamby. Man of Destiny is simply the best one-volume biography of FDR we have--a superb, clear-headed study based on a lifetime of research and hard thinking."—Anthony Badger, author of FDR: The First Hundred Days

"Alonzo Hamby has written a terrific biography of Franklin Roosevelt. He has a good eye for the relevant rather than superfluous detail. And he answers the big question about FDR: how someone of inherited wealth and lofty standing became the scourge of Wall Street and the champion of the ordinary American. I have a somewhat more positive assessment of Roosevelt's New Deal years, but Hamby's more critical view, especially in regard to his analysis of the 1937-8 recession, has given me pause. I highly recommend this book."—John Judis, Senior Writer, National Journal

"We have long lacked a comprehensive one volume life of FDR by a historian equally proficient in the political, economic, and international history of his era. Alonzo Hamby's Man of Destiny more than meets that need: beautifully written, solidly researched, and admirably fair in its findings, it will henceforth be the most readable--and teachable--biography of the 20th century's most influential American president."—John Lewis Gaddis, Pulitzer Prize-winning author of George F. Kennan: An American Life

"FDR remains the most influential, enduring, and enigmatic leader of twentieth century America. Alonzo Hamby's book offers a fascinating portrait of Roosevelt, brilliantly capturing his political prescience and strategic acumen, as well as his personal egotism and intellectual inconsistency. Hamby explains how a very human president contributed to seemingly super-human outcomes. This book is a must-read for anyone interested in history, politics, and leadership."—eremi Suri, author of Liberty's Surest Guardian: American Nation-Building from the Founders to Obama
Basic Books, 9780465028603, 512pp.
Publication Date: September 22, 2015
About the Author
Alonzo L. Hamby is Distinguished Professor of History Emeritus at Ohio University. He is the author of several books, including Beyond the New Deal: Harry S. Truman and American Liberalism, Man of the People: A Life of Harry S. Truman, and For the Survival of Democracy: Franklin Roosevelt and the World Crisis of the 1930s.

Hamby also has received two National Endowment for the Humanities Fellowships, a Harry S. Truman Library Institute Senior Fellowship, a Woodrow Wilson International Center for Scholars Fellowship, and the Ohio Academy of History Distinguished Service Award. Born in Missouri, Hamby graduated from Southeast Missouri State University and earned his Ph.D. from the University of Missouri-Columbia.
or
Not Currently Available for Direct Purchase