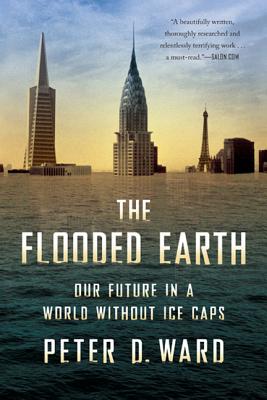 The Flooded Earth (Paperback)
Our Future In a World Without Ice Caps
Basic Books, 9780465029051, 272pp.
Publication Date: August 7, 2012
Other Editions of This Title:
Hardcover (6/8/2010)
* Individual store prices may vary.
Description
No matter what efforts we make to halt global warming, sea level rise will be an unavoidable part of our future. In The Flooded Earth, species extinction expert Peter D. Ward describes in intricate detail what our world will look like in 2050, 2100, 2300, and beyond. Even if we stopped all carbon dioxide emissions today, according to Ward, the seas will rise three feet by 2050 and nine feet by 2100. The effects of one meter of sea-level rise will be massive; three meters will be catastrophic. Incursions of salt into the water table will destroy most of our best agricultural land, and corrosion will devour the electrical and fiber-optic systems of coastal cities, as well as our roads and bridges. Amsterdam, Miami, Venice and other cities might have to be abandoned. As icebound regions melt, meanwhile, new sources of oil, gas, minerals, and arable land will be revealed—and geopolitical battles will erupt over who owns the rights to them. Laying out a blueprint for a foreseeable future, Ward explains what politicians and policy makers around the world should be doing now to head off the worst consequences of this cataclysmic—and frighteningly inevitable—transformation.
About the Author
Peter D. Ward is a Professor of Biology and Earth and Space Sciences at the University of Washington in Seattle. He also serves as an astrobiologist with NASA. Ward is the author of more than a dozen books, including the highly acclaimed Rare Earth: Why Complex Life Is Uncommon in the Universe with Donald Brownlee and Out of Thin Air: Dinosaurs, Birds, and Earth's Ancient Atmosphere. He appeared in the PBS documentary "Shape of Life" and was the chief scientist for Animal Planet's Animal Armageddon, a multi-part series on animal extinction. He lives in Seattle, Washington.