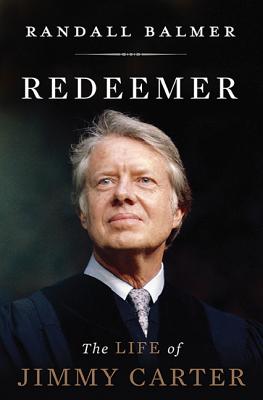 Redeemer
The Life of Jimmy Carter
Hardcover

* Individual store prices may vary.
Description
A religious biography of Jimmy Carter, the controversial president whose political rise and fall coincided with the eclipse of Christian progressivism and the emergence of the Religious Right.

Evangelical Christianity and conservative politics are today seen as inseparable. But when Jimmy Carter, a Democrat and a born-again Christian, won the presidency in 1976, he owed his victory in part to American evangelicals, who responded to his open religiosity and his rejection of the moral bankruptcy of the Nixon Administration. Carter, running as a representative of the New South, articulated a progressive strand of American Christianity that championed liberal ideals, racial equality, and social justice -- one that has almost been forgotten since.

In Redeemer, acclaimed religious historian Randall Balmer reveals how the rise and fall of Jimmy Carter's political fortunes mirrored the transformation of American religious politics. From his beginnings as a humble peanut farmer to the galvanizing politician who rode a reenergized religious movement into the White House, Carter's life and career mark him as the last great figure in America's long and venerable history of progressive evangelicalism. Although he stumbled early in his career-courting segregationists during his second campaign for Georgia governor -- Carter's run for president marked a return to the progressive principles of his faith and helped reenergize the evangelical movement. Responding to his message of racial justice, women's rights, and concern for the plight of the poor, evangelicals across the country helped propel Carter to office. Yet four years later, those very same voters abandoned him for Ronald Reagan and the Republican Party. Carter's defeat signaled the eclipse of progressive evangelicalism and the rise of the Religious Right, which popularized a dramatically different understanding of the faith, one rooted in nationalism, individualism, and free-market capitalism.

An illuminating biography of our 39th president, Redeemer presents Jimmy Carter as the last great standard-bearer of an important strand of American Christianity, and provides an original and riveting account of the moments that transformed our political landscape in the 1970s and 1980s.
Praise For Redeemer: The Life of Jimmy Carter…
"Anyone who is interested in squaring appropriate expressions of faith in politics along with the separation of church and state, 20th century American political and religious history, and Baptist life in this country over the past four decades will want to read and savor this important and incisive effort by Randall Balmer."
—
Baptist Joint Committee Magazine
"Balmer explores the paradoxes of a man balancing faith and ideals against the pragmatics of politics and the evangelical tide that favored him and later turned so vehemently against him."
—
Booklist, starred review
"Balmer provides an engaging religious-centric interpretation of his subject."
—
Library Journal
"A sympathetic account of a president too often overlooked, embedded in a rethinking of the rise of the religious right."
—
Kirkus Reviews
"Mr. Balmer narrates the surprising rise of a Georgia peanut farmer with the ease of a natural storyteller."
—
Wall Street Journal
"A refreshingly concise entry in a genre known for doorstops."
—
New York Times Book Review
"Balmer's big contribution to our understanding of the man from Plains is in showing how his evangelical convictions both helped put him into office and helped precipitate his landslide loss to Ronald Reagan in 1980."
—
Seattle Times
"Balmer is an excellent storyteller, and many of the main characters in this biography come to life at key moments."
—
Chronicle of Higher Education
"For much of the past 35 years, conservative belief has defined American religious life. Although the progressive evangelicalism of the 19th century remains well known, the recent history of liberal belief is in need of recovery.
Redeemer
fits within this reconsideration of progressive religion, and Carter's career path offers a way forward for progressives' engagement as global citizens."—
Christian Century
"Randall Balmer's slim profile seeks to remind us there was once, and could be again, a 'Christian left' in American politics."
—
Pittsburgh Post-Gazette
"Redeemer is a fascinating account not only of Jimmy Carter, but of progressive evangelicalism and its place in American history. Beautifully written and moving, it offers an eye-opening account of the man and the period. Evangelicalism emerges as more complex and unpredictable than many observers imagine."
—
T. M. Luhrmann
,
author of When God Talks Back: Understanding the American Evangelical Relationship with God
"Focusing on Carter as a religious figure, Balmer recounts a fascinating story of unintended consequences. Carter's progressive evangelicalism had liberal political implications, but his capitalization on being 'born again' during his 1976 presidential campaign led eventually to the emergence of a religious right. By 1980 that conservative movement was strong enough to help defeat Carter and to establish itself as a force on the national political scene. As Balmer nicely observes, Carter's many admirable activities after leaving office illustrate that religion may be at its prophetic best when distanced from political power."
—
George Marsden
,
author of Twilight of the American Enlightenment: The 1950s and the Crisis of Liberal Belief
"Randall Balmer's
Redeemer
deftly reveals modern America's most misunderstood president. Randall Balmer melds Carter's famous evangelical sensibilities into a story of cascading successes and failures, the world ultimately indifferent to a man who hoped politics could be religion realized and redeemed more in retirement than in his frustrated presidency--a compelling, wistful tale briskly rendered."—
Jon Butler, Yale University
,
-
"
Redeemer
offers an astute, sympathetic, and engrossing account of how Jimmy Carter's Southern Baptist faith shaped his political career. Randall Balmer's feel for the religious dynamics of the 1970s-the ways in which right-wing evangelicalism swamped Carter's more progressive rendering of born-again Christianity-is remarkable. He combines an insider's knowledge with a historian's erudition to create a revelatory account of Carter's religious and political fortunes. A story replete with betrayal and redemption, Balmer tells it exceptionally well."—
Leigh E. Schmidt, Mallinckrodt Distinguished University Professor in the Humanities, Washington University in St. Louis
,
-
"Professor Balmer provides an insightful summary and analysis of Jimmy Carter's life and work as farmer, politician, president, humanitarian and born-again Baptist. His study moves beyond biography to place Carter within the larger context of an American evangelicalism that continues to struggle with its role in the political sphere and the impact of personal faith on the lives of elected officials. Balmer knows the issues well and explores them creatively."
—
Bill Leonard, James and Marilyn Dunn Professor of Baptist Studies and Professor of Church History, Wake Forest University
,
-
"This is religion and politics at its finest. With wit, insight, and narrative freshness, Randall Balmer recalls that dynamic moment in the 1970s before evangelicalism became a handmaiden to political conservatism. Jimmy Carter was the "born again" president who would redeem the nation from the sins of Watergate and Vietnam. How he tried, how many failed, and the evangelical-conservative knot that rose after his presidency is a tragic and beautiful story, and none explains it better than Randall Balmer. Grab a cup of tea or coffee, for
Redeemer
is one of those books not to skim, but to savor.—
Edward J. Blum
,
co-author of The Color of Christ: The Son of God and the Saga of Race in America
Basic Books, 9780465029587, 304pp.
Publication Date: May 13, 2014
About the Author
Randall Balmer is Mandel Family Professor of Arts and Sciences at Dartmouth College. An Episcopal priest and the author of more than a dozen books, Balmer lives in White River Junction, Vermont.
or
Not Currently Available for Direct Purchase