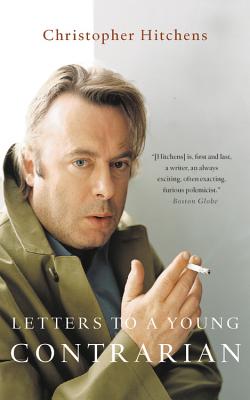 Letters to a Young Contrarian (Paperback)
Basic Books, 9780465030330, 160pp.
Publication Date: April 13, 2005
Other Editions of This Title:
Hardcover (11/1/2001)
* Individual store prices may vary.
Description
From bestselling author and provocateur Christopher Hitchens, the classic guide to the art of principled dissent and disagreement
In Letters to a Young Contrarian, bestselling author and world-class provocateur Christopher Hitchens inspires the radicals, gadflies, mavericks, rebels, and angry young (wo)men of tomorrow. Exploring the entire range of "contrary positions"--from noble dissident to gratuitous nag--Hitchens introduces the next generation to the minds and the misfits who influenced him, invoking such mentors as Emile Zola, Rosa Parks, and George Orwell. As is his trademark, Hitchens pointedly pitches himself in contrast to stagnant attitudes across the ideological spectrum. No other writer has matched Hitchens's understanding of the importance of disagreement--to personal integrity, to informed discussion, to true progress, to democracy itself.
About the Author
Christopher Hitchens (1949-2011) was a prolific author, columnist, editor, and book critic, writing on issues ranging from politics, to religion, to the nature of debate itself. He was a regular contributor to the Atlantic Monthly, Vanity Fair, Slate, Harper's, and numerous other publications, as well as the recipient of the Lannan Literary Award for Nonfiction and the National Magazine Award. Hitchens's 2007 manifesto God Is Not Great was a #1 New York Times bestseller and a National Book Award finalist.
Praise For Letters to a Young Contrarian…
"[Hitchens] is, first and last, a writer, an always exciting, often exacting, furious polemicist."—Boston Globe

"Hitchens exhibits precisely the combination of indignation and intellect that he recommends to others."—New York Times Book Review

"Letters shows Hitchens's best....[H]e makes entertaining mincemeat of self-satisfied politicians and shreds received ideas and media-spun consensus with a fearlessness that is invaluable in our mealymouthed punditocracy."—Village Voice

"Delicious....[Letters to a Young Contrarian] showcases Hitchens at his most savage and wise."—Progressive

"Part revolutionist, part court jester, he is possessed of a wickedly effective prose style and sense of moral purpose....True democracy would not exist without Hitchens and his ilk. May this book breed many more contrarians, young and old alike."—Timeout New York