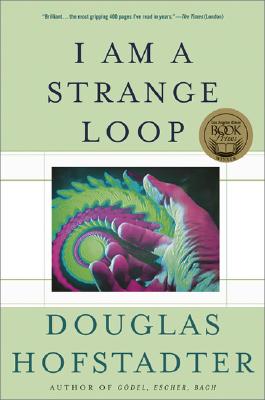 I Am a Strange Loop
Paperback

* Individual store prices may vary.
Other Editions of This Title:
Digital Audiobook (7/9/2018)
Description
One of our greatest philosophers and scientists of the mind asks, where does the self come from -- and how our selves can exist in the minds of others. Can thought arise out of matter? Can self, soul, consciousness, "I" arise out of mere matter? If it cannot, then how can you or I be here? I Am a Strange Loop argues that the key to understanding selves and consciousness is the "strange loop"-a special kind of abstract feedback loop inhabiting our brains. The most central and complex symbol in your brain is the one called "I." The "I" is the nexus in our brain, one of many symbols seeming to have free will and to have gained the paradoxical ability to push particles around, rather than the reverse. How can a mysterious abstraction be real-or is our "I" merely a convenient fiction? Does an "I" exert genuine power over the particles in our brain, or is it helplessly pushed around by the laws of physics? These are the mysteries tackled in I Am a Strange Loop, Douglas Hofstadter's first book-length journey into philosophy since Gödel, Escher, Bach. Compulsively readable and endlessly thought-provoking, this is a moving and profound inquiry into the nature of mind.
Praise For I Am a Strange Loop…
"[F]ascinating... original and thought-provoking.... [T]here are many pleasures in I Am a Strange Loop."—Wall Street Journal

"I Am a Strange Loop is thoughtful, amusing and infectiously enthusiastic."—Bloomberg news

"I Am a Strange Loop scales some lofty conceptual heights, but it remains very personal, and it's deeply colored by the facts of Hofstadter's later life. In 1993 Hofstadter's wife Carol died suddenly of a brain tumor at only 42, leaving him with two young children to care for.... I Am a Strange Loop is a work of rigorous thinking, but it's also an extraordinary tribute to the memory of romantic love: The Year of Magical Thinking for mathematicians."—Time

"I Am a Strange Loop is vintage Hofstadter: earnest, deep, overflowing with ideas, building its argument into the experience of reading it-for if our souls can incorporate those of others, then I Am a Strange Loopcan transmit Hofstadter's into ours. And indeed, it is impossible to come away from this book without having introduced elements of his point of view into our own. It may not make us kinder or more compassionate, but we will never look at the world, inside or out, in the same way again."—Los AngelesTimes Book Review

"Nearly thirty years after his best-selling book Gödel, Escher, Bach, cognitive scientist and polymath Douglas Hofstadter has returned to his extraordinary theory of self."—New Scientist

"His new book, as brilliant and provocative as earlier ones, is a colorful mix of speculations with passages of autobiography."—Martin Gardiner
Basic Books, 9780465030798, 436pp.
Publication Date: July 8, 2008
About the Author
Douglas Hofstadter is College of Arts and Sciences Professor of Cognitive Science and Computer Science at Indiana University, Bloomington. His other books include the Pulitzer Prize-winning Gödel, Escher, Bach: an Eternal Golden Braid; Metamagical Themas; The Mind's I; Fluid Concepts and Creative Analogies; Le Ton beau de Marot; and Surfaces and Essences, with Emmanuel Sander. He lives in Bloomington, Indiana.