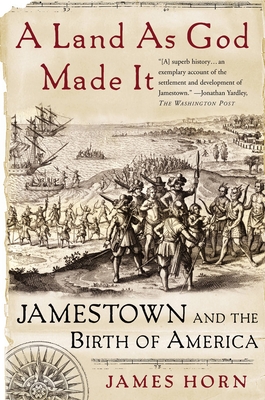 A Land As God Made It
Jamestown and the Birth of America
Paperback

* Individual store prices may vary.
Description
The definitive history of the Jamestown colony, the crucible of American history

Although it was the first permanent English settlement in North America, Jamestown is too often overlooked in the writing of American history. Founded thirteen years before the Mayflower sailed, Jamestown's courageous settlers have been overshadowed ever since by the pilgrims of Plymouth. But as historian James Horn demonstrates in this vivid and meticulously researched account, Jamestown-not Plymouth-was the true crucible of American history. Jamestown introduced slavery into English-speaking North America; it became the first of England's colonies to adopt a representative government; and it was the site of the first white-Indian clashes over territorial expansion. A Land As God Made It offers the definitive account of the colony that give rise to America.
Praise For A Land As God Made It: Jamestown and the Birth of America…
"A thorough and
painstaking history of the Jamestown settlement.... Horn writes with clarity
and precision, and in John Smith, he has a larger-than-life central figure...
[Horn] has done a careful job of synthesizing his material. He's also
strong on the details: his version of the 1609 famine...ignites the horror in
the reader's mind."—Russell Shorto, New York Times BookReview

"A superb history...an exemplary
account.... All in all, an absolutely terrific book."—Jonathan Yardley, Washington Post

"[Horn] is eminently well qualified and writes with assurance about the actual events and the many myths that surround the first years of the Colonial experience.... A Land as God Made Itshould take a rightful place in the very short list of books that are must reading for anybody who wants to understand how it all began."—Richmond Times-Dispatch

"A rip-snortin' adventure, petty-and power-politics, blood-and-guts
rivalries and more.... This work has the special merit of revealing a
historical treasure--like a lost Gilbert Stewart found in the dusty attic of history,
a subject whose importance becomes as obvious as our neglect of it seems silly
and wrong."—Washington Times

"[Horn] presents the story of early Virginia
almost as though it were the plot of a colorful novel.... Horn's astute history
is a story of courage and cowardice, wisdom and stupidity, cross-cultural
friendship and racist brutality, religious greatness and religious hypocrisy,
and all the qualities that make America what it is today."—Virginian-Pilot

"This is a must read
for true Virginians (and those who would aspire to that lofty station) and
should be force-fed to the descendants of the codfish aristocracy who forget
that we got here first."—Roanoke Times
Basic Books, 9780465030958, 352pp.
Publication Date: September 26, 2006
About the Author
James Horn is the president of the Jamestown Rediscovery Foundation. He is author and editor of eight books on colonial American history, including A Land as God Made It: Jamestown and the Birth of America and A Brave and Cunning Prince: The Great Chief Opechancanough and the War for America. He lives in Richmond, Virginia.