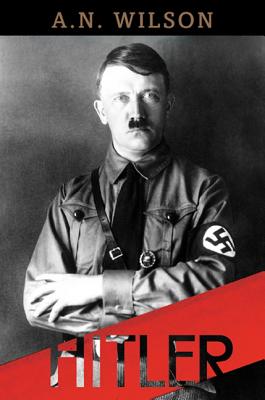 Hitler (Hardcover)
Basic Books, 9780465031283, 224pp.
Publication Date: March 27, 2012
Other Editions of This Title:
MP3 CD (3/27/2012)
Pre-Recorded Audio Player (3/27/2012)
Hardcover (3/1/2012)
Compact Disc (3/27/2012)
Compact Disc (3/27/2012)
* Individual store prices may vary.
Description
er's unlikely rise to power and his uncanny ability to manipulate his fellow man resulted in the deaths of millions of Europeans and a horrific world war, yet despite his colossal role in world history, he remains mythologized and, as a result, misunderstood. In Hitler, A.N. Wilson limns this mysterious figure with great verve and acuity, showing that it was Hitler's frightening normalcy—not some otherworldly evilness—that makes him so truly terrifying.
About the Author
A.N. Wilson is a renowned British journalist and author.  He is the author of several acclaimed biographies, including Tolstoy, C.S. Lewis, Jesus, and Paul. He taught for seven years at Oxford before becoming a journalist. A frequent contributor to the Daily Mail, the Times Literary Supplement, New Statesman, The Spectator, and The Observer, Wilson lives in London.
Praise For Hitler…
Tucson Citizen
"This well-crafted book cuts to the chase and reveals surprising facts about one of the most reviled figures in history…. A fascinating book that underscores the fact that even in a modern era enamored with progress and rationality, the darkest elements of society can sometimes fester and become the most seductive."
Express (London)
"Wilson has opted for brevity and sharp metal, skewering and brilliantly dissecting Hitler bare in a book you can almost read in a sitting. Wilson cuts to the dark heart of the matter…. A stimulating triumph of the mind."
The American Prospect
"A.N. Wilson's biography provides a succinct, quick-reading introduction to Hitler that deftly manages the essentials, and, in its truly terrifying accomplishment, begins to bring the human being behind the monstrous
Führer
back to life."
Mail on Sunday
"[An] entertaining, short biography…. [Wilson] bring[s] a witty, novelist's insight into what made Hitler tick. He seems to understand Hitler's character in a way many historians never could."
Providence Journal
"
Hitler
is a slender but insightful volume about the evil instigator of World War II and the murderer of millions."
Boston Globe
"Distilling his own career-long study into a tight, rapid-fire volume that is both portrait and warning, Wilson delivers a statement on Hitler that is insightful."

Wall Street Journal
"Provocative…. Noting how much Hitler depended on his speeches (even 'Mein Kampf' was dictated), Mr. Wilson calls him the 'most hypnotic artist of post-literacy.' Like today's radio talk-show 'entertainers,' Hitler knew there was something about the spoken word that could galvanize millions. Rather than focus on Hitler's ideology, the biographer brilliantly singles out his subject's style of attack."

Booklist
"[A] sharply focused capsule biography…. A portrait as disturbing as it is succinct."

Kirkus Reviews
"[Wilson] provides a useful, even entertaining, life of Hitler. He revisits the expected events—his rise, his incarceration, Mein Kampf, his vicious henchman, his anti-Semitism, his enormous prewar popularity (not just in Germany), his poor military judgment, his women, his fall and death—and adds some nasty details (he couldn't control his farting; he was lazy and dressed oddly)."
or
Not Currently Available for Direct Purchase