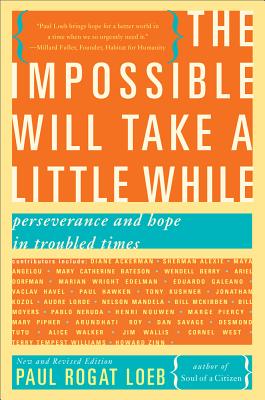 The Impossible Will Take a Little While
A Citizen's Guide to Hope in a Time of Fear
Paperback

* Individual store prices may vary.
Description
More relevant than ever, this seminal collection of essays encourages us to believe in the power of ordinary citizens to change the world

In today's turbulent world it's hard not to feel like we're going backwards; after decades of striving, justice and equality still seem like far off goals. What keeps us going when times get tough? How have the leaders and unsung heroes of world-changing political movements persevered in the face of cynicism, fear, and seemingly overwhelming odds? In The Impossible Will Take a Little While, they answer these questions in their own words, creating a conversation among some of the most visionary and eloquent voices of our times. Today, more than ever, we need their words and their wisdom.

In this revised edition, Paul Rogat Loeb has comprehensively updated this classic work on what it's like to go up against Goliath -- whether South African apartheid, Mississippi segregation, Middle East dictatorships, or the corporations driving global climate change. Without sugarcoating the obstacles, these stories inspire hope to keep moving forward.

Think of this book as a conversation among some of the most visionary and eloquent voices of our times -- or any time: Contributors include Maya Angelou, Diane Ackerman, Marian Wright Edelman, Wael Ghonim, Váav Havel, Paul Hawken, Seamus Heaney, Jonathan Kozol, Tony Kushner, Audre Lorde, Nelson Mandela, Bill McKibben, Bill Moyers, Pablo Neruda, Mary Pipher, Arundhati Roy, Dan Savage, Desmond Tutu, Alice Walker, Cornel West, Terry Tempest Williams, and Howard Zinn.


Praise For The Impossible Will Take a Little While: A Citizen's Guide to Hope in a Time of Fear…
"An indispensable anthology of hope and inspiration. Put away your Prozac, and pick up The Impossible Will Take a Little While."—Arianna Huffington

"A magnificent anthology celebrates hope, guts, and the power of taking action.... Loeb has compiled for us the words of 49 of the most gifted and heroic men and women of our time, 49 testimonials to stamina and compassion in the face of seemingly insurmountable odds, 49 reasons to keep hope alive in this time of frustration and fear"—The Oprah Magazine

"Loeb has been doing wonderfully patient work, exploring the American conscience from the inside. I regard him as something of a national treasure."—Susan Sontag

"An anthology of some of the most powerful voices of of our time."—Boston Globe

"For anyone worn down, The Impossible Will Take a Little While is a bracing double cappuccino."—Barbara Ehrenreich

"Deeply moving and motivating...a retinue to be reckoned with; a plethora of commentary from those dedicated to the concept of a better world"—Baltimore Sun

"Stop worrying, stop feeling sorry for humanity and read The Impossible Will Take a Little While."—Chicago Tribune

"A much needed salvo against despair."—Psychology Today

"A book of essays meant to inspire people."—Christian Science Monitor

"An extremely important effort."—John Kenneth Galbraith

"Paul Loeb brings hope for a better world in a time when we so urgently need it."—Millard Fuller, founder, Habitat for Humanity

"A shot in the arm for all of us who feel withered by crisis and paralyzed with cynicism.... Every page sparkles with insight into how the most painful circumstances can drive us to our higher selves."—San Antonio Express News

"A powerful classroom resource that will help inspire your students to act."—American Association of Colleges and Universities

"A compilation of 49 essays, excerpts and exclamations from a wide range of people who have found hope despite all evidence to the contrary."—Minneapolis Star Tribune

"A stirring collection of essays aimed at people who still want to believe that ordinary people can change the world."—Atlanta Journal-Constitution

Hopeful, inspiring, and motivating.... May well be required reading for us all."—Sierra Club Magazine

"Will resonate with anyone struggling with despair and doubt."—Dallas Morning News

"A collection of moving essays and poems on how to maintain optimism in a post 9/11 world."—Real Simple

"A must read"—Teaching Tolerance

"A wonderful book, with some extraordinary folks contributing. It reminds us that darkness always comes before the dawn."—Reg Weaver, president, National Education Association

"You are part of what's good about this world and I admire your work very much. This book can even make one hopeful about the future despite so many signs to the contrary."—Bill Moyers

"Stunning insights...educational and inspirational."—Seattle Times

"When my daughter asked from college how to be an effective grassroots citizen, I gave her Paul's books."—Josette Sheeran, Executive Director, United Nations World Food Program

"Reading this hymnbook of hope, one's heart cannot help but sing. I am moved and inspired by this magnificent book's rich stories and insights. They water the fragile, precious seed of hope, from which everything we love grows."—Vicki Robin author, Your Money or Your Life

"This inspiring collection is such a song of hope in these difficult times."—Bonnie Raitt

"A soul-stirring anthology which we guarantee will lift the spirits of anyone looking for reasons to carry on in the struggle to create a better world."—The Lutheran

"An intelligent, impressive compendium of ideas and feelings that, if implemented, will lead to a far more civilized society."—Peter Matthiessen, author of The Snow Leopard
Basic Books, 9780465031733, 496pp.
Publication Date: April 29, 2014
About the Author
Paul Rogat Loeb is the author of Soul of a Citizen, which has 130,000 copies in print. He appears regularly in the Huffington Post and on national radio and TV and has written for the New York Times, Washington Post, and AARP Bulletin.
or
Not Currently Available for Direct Purchase