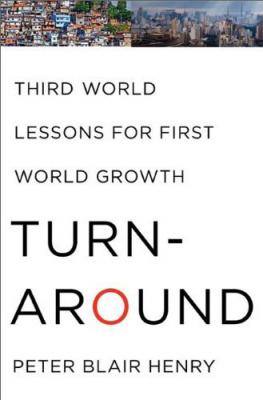 Turnaround (Hardcover)
Third World Lessons for First World Growth
Basic Books (AZ), 9780465031894, 220pp.
Publication Date: March 12, 2013
* Individual store prices may vary.
Description

Thirty years ago, China seemed hopelessly mired in poverty, Mexico triggered the Third World Debt Crisis, and Brazil suffered under hyperinflation. Since then, these and other developing countries have turned themselves around, while First World nations, battered by crises, depend more than ever on sustained growth in emerging markets. In Turnaround, economist Peter Blair Henry argues that the secret to emerging countries' success (and ours) is discipline--sustained commitment to a pragmatic growth strategy. With the global economy teetering on the brink, the stakes are higher than ever. And because stakes are so high for all nations, we need less polarization and more focus on facts to answer the fundamental question: which policy reforms, implemented under what circumstances, actually increase economic efficiency? Pushing past the tired debates, Henry shows that the stock market's forecasts of policy impact provide an important complement to traditional measures. Through examples ranging from the drastic income disparity between Barbados and his native Jamaica to the "catch up" economics of China and the taming of inflation in Latin America, Henry shows that in much of the emerging world the policy pendulum now swings toward prudence and self-control. With similar discipline and a dash of humility, he concludes, the First World may yet recover and create long-term prosperity for all its citizens. Bold, rational, and forward-looking, Turnaround offers vital lessons for developed and developing nations in search of stability and growth.

About the Author
Peter Blair Henry is the Dean of the Stern School of Business at NYU. Before taking this position in January 2010, he was the Konosuke Matsushita Professor of International Economics at Stanford, where he was a faculty scholar, the Associate Director of the Center for Global Business and the Economy at Stanford's business school, and a Senior Fellow at the Stanford Institute for Economic Policy Research. He served as a member of the Obama transition team and is a member of the President's Commission on White House Fellowships. He is also a board member at the National Bureau of Economic Research, a member of the Board of Directors of Kraft Foods, a nonresident Senior Fellow at the Brookings Institution, and a member of the Council on Foreign Relations. He was a National Fellow at the Hoover Institution and a Rhodes Scholar. While receiving his Ph.D in economics at MIT, he served as an economic advisor to the Governors of the Bank of Jamaica (his native country) and the Eastern Caribbean Central Bank.
or
Not Currently Available for Direct Purchase