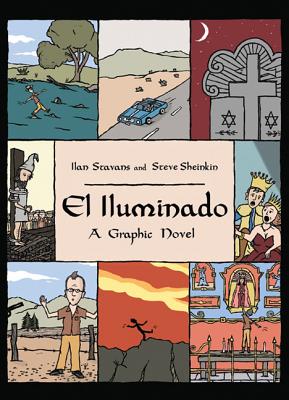 El Iluminado
A Graphic Novel
Hardcover

* Individual store prices may vary.
Description
When young Rolando Perez falls to his death from a cliff outside Santa Fe, New Mexico, the mysteries immediately begin to accumulate. Was he pushed or did he jump? What are the documents that Rolando was willing sacrifice himself to protect from his family, the police, and the Catholic Church? And what does a colorful concha pastry have to do with any of this?

In the midst of the investigation, Professor Ilan Stavans arrives in Santa Fe to give a lecture about the area's long-buried Jewish history. He's looking forward to relaxing afterwards with an evening of opera, but his presentation on "crypto-Jews" attracts unexpected attention, and soon Ilan is drawn into a desperate race to find the long-lost documents that might hold the key to Rolando's death. Ilan's detective work leads him to taco joints, desert ranches, soaring cathedrals, and, finally, deep into the region's past, where he encounters another young man: Luis de Carvajal, aka "El Iluminado," a sixteenth-century religious dissenter. In a tale of martyrdom that eerily echoes Rolando's, Carvajal fled Spain for colonial Mexico at the height of the Spanish Inquisition, searching for his religious heritage -- a hunt for which he, like Rolando, would pay the ultimate price.

In El Iluminado, esteemed literary critic Ilan Stavans and author and illustrator Steve Sheinkin present a secret history of religion in the Americas, showing how thousands of European refugees have left a trail of ghostly footprints -- and troves of mysteries -- across the American Southwest.
Praise For El Iluminado: A Graphic Novel…
"A death in the desert... missing documents... a stubborn priest... a persistent young woman grieving the loss of her cousin and trying to solve his death... Jewish symbols showing up in mysterious places... is this the plot of the latest Indiana Jones movie? Not quite, but maybe something even better. The new graphic novel by well-known literary critic Ilan Stavans and graphic novelist Steve Sheinkin packs a punch that is at once a gripping whodunit and a fascinating lesson on crypto-Jews in New Mexico... The story is fast-paced and fascinating, with a delightful blend of history and humor. Sheinkin's illustrations are immediately recognizable to fans of his Rabbi Harvey series, and his choice of colors and attention to details result in a beautifully entertaining book that will surely become a classic."
—
Jewish Book World
"[S]uspenseful and spine-tingling.... [I]t is a story stuffed with intrigue – it will make you want to pay a little more attention to the past....
El Iluminado
proves anything can be discovered."
—
Los Alamos Daily Post
"
El Iluminado
is a page-turning whodunit that delivers a substantial history lesson in a clear, entertaining way."
—
The Phoenix New Times, Jackalope Culture Blog
"Ilan Stavans and Steve Sheinkin's graphic novel takes a highly entertaining and informative journey through a largely unknown slice of New Mexican and Jewish history…. El Iluminado reads a bit like a crypto-Jewish DaVinci Code.... An undeniably weighty and meaningful chapter of American history, an epic tale with a tragic sweep.... A reminder of the human longing that often drives those who search for their 'true' religious and cultural identities."
—Los Angeles Times, Jacket Copy

"Regardless of your background, Stavans and Sheinkin's graphic novel will illuminate you.... It will compel you to see the world through Jewish and immigrant eyes, and remind you that home isn't a place, but a state of mind."
—ABC News/Univision

"El Iluminado is a delightful surprise of a book.... A graphic novel turns out to be a great way to explore this religious history."
—San Antonio Express-News

"Combines history, spirituality and a murder mystery sprinkled with a touch of Spanglish."
—Albuquerque Journal

"Secrets abound in El Iluminado.... [Stavans and Sheinkin] embroider the mystery with plenty of history and not a little wry humor, too."
—Jewish Journal


Basic Books, 9780465032570, 208pp.
Publication Date: November 13, 2012
About the Author
Ilan Stavans is Lewis-Sebring Professor of Latin American and Latino Culture and Five-College Fortieth Anniversary Professor at Amherst College. He is the author of Latino USA: A Cartoon History and editor of the Norton Anthology of Latino Literature. His work has been translated into a dozen languages and adapted into theater and film. Recipient of a Guggenheim Fellowship and of many international prizes and honors, he lives in Amherst, Massachusetts.

Steve Sheinkin writes and draws the popular Rabbi Harvey graphic novels and writes award-winning nonfiction books for young adults. He lives in Saratoga Springs, New York.
or
Not Currently Available for Direct Purchase