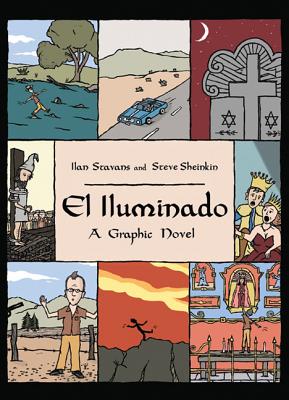 El Iluminado: A Graphic Novel (Hardcover)
A Graphic Novel
Basic Books (AZ), 9780465032570, 197pp.
Publication Date: November 13, 2012
Description
When young Rolando Perez falls to his death from a cliff outside Santa Fe, New Mexico, the mysteries immediately begin to accumulate. Was he pushed or did he jump? What are the documents that Rolando was willing sacrifice himself to protect from his family, the police, and the Catholic Church? And what does a colorful concha pastry have to do with any of this? In the midst of the investigation, Professor Ilan Stavans arrives in Santa Fe to give a lecture about the area's long-buried Jewish history. He's looking forward to relaxing afterwards with an evening of opera, but his presentation on "crypto-Jews" attracts unexpected attention, and soon Ilan is drawn into a desperate race to find the long-lost documents that might hold the key to Rolando's death. Ilan's detective work leads him to taco joints, desert ranches, soaring cathedrals, and, finally, deep into the region's past, where he encounters another young man: Luis de Carvajal, aka "El Iluminado," a sixteenth-century religious dissenter. In a tale of martyrdom that eerily echoes Rolando's, Carvajal fled Spain for colonial Mexico at the height of the Spanish Inquisition, searching for his religious heritage--a hunt for which he, like Rolando, would pay the ultimate price. In El Iluminado, esteemed literary critic Ilan Stavans and author and illustrator Steve Sheinkin present a secret history of religion in the Americas, showing how thousands of European refugees have left a trail of ghostly footprints--and troves of mysteries--across the American Southwest.

About the Author
Ilan Stavans is Lewis-Sebring Professor of Latin American and Latino Culture and Five-College Fortieth Anniversary Professor at Amherst College. He is the author of Latino USA: A Cartoon History and editor of The Norton Anthology of Latino Literature. His work has been translated into a dozen languages and adapted into theater and film. Recipient of a Guggenheim Fellowship and of many international prizes and honors, he lives in Amherst, Massachusetts. Steve Sheinkin writes and draws the popular Rabbi Harvey graphic novels and writes award-winning nonfiction books for young adults. He lives in Saratoga Springs, New York.
Praise For El Iluminado: A Graphic Novel…
Another bold... experiment from an academic with impeccable credentials and a keen sense of the secrets we hold most dear."Kirkus Reviews


Crypto-Jews of the Southwest, your voices are about to be heard! Sheinkin and Stavans do justice to both academic scholarship and the graphic novel in this amazing new work."
Gary Shteyngart, author of Super Sad True Love Story


El Iluminado is a mystery that takes pne by the collar and lunges into tri-cultural religious history. It is a must-read for all who are interested in the Southwest as well as the very meaning and shaping of our spiritual legacy. It's accessible and genuine, a refreshing take with a unique voice and approach. You will enjoy, as I have, this jaunt into the marvelous enchantments of the imagination, mixed with history and culture, that all culminate in a reawakening of our heritage. Bravoa great read, a page-turner of a book, unrivaled in its distinct voice and clarity!"
Jimmy Santiago Baca, author of A Glass of Water


A captivating tale about the Sephardic heart that still throbs, years after the conquest and the Inquisition, in the Latino heartland of New Mexico. Stavans and Sheinkin educate and thrill in this warmly felt story about memory and the search for identity in an age of global wandering."
Ruth Behar, author of An Island Called Home: Returning to Jewish Cuba


El Iluminado is a mystery about the very concept of mystery and our sometimes deadly fascination with ita tale that reveals the uncomfortable parallels between the Spanish Inquisition and modern academia. Funny and thought-provoking, a graphic novel of anti-heroic proportions."
John Sayles, author of A Moment in the Sun


El Iluminado is a wondrous journey that boomerangs between the Old World and the New, between Mexico and El Norte, with Ilan Stavans on a search to find his identity in a landscape that constantly shifts, as if Krazy Kat had come to Santa Fe."
Jerome Charyn, author of The Secret Life of Emily Dickinson


The ever prodigious Stavans has done it again. He weaves into this murder mystery much religious intrigue about the secret history of crypto-Jews in New Mexico. Stavans' writing breathes life into the characters, and co-conspirator Sheinkin brings a rhythmic pace to the panels that moves the mystery to its suspenseful end; his precise yet suggestive visual creations plant us firmly in a breathtaking New Mexico. Not since Umberto Eco's The Name of the Rose have I come across such a scintillating ecclesiastical murder mystery."
Frederick Luis Aldama, author of Your Brain on Latino Comics


El Iluminado shines a brilliant light into the hidden history of New Mexico's crypto-Jews, a fascinating new chapter in the long and colorful history of the Jewish graphic novel. Part whodunit, part academic farce (David Lodge meets Raymond Carver, via a Spanglish-speaking Art Spiegelman), it is above all a crackling good read. It is also a touching meditation on self-fashioning, on Jewish identity (hidden and in plain sight), by turns shocking, funny, droll, and self-deprecating. Master storytellers, Stavans and Sheinkin prove yet again that by co-mixing words and images, the graphic novel can simultaneously show and tell history in ways unavailable to words or images alone."
James E. Young, author of The Texture of Memory and At Memory's Edge


El Iluminado proves that the graphic novel is the perfect medium for a multilayered literary mystery. Like Ellery Queen, Ilan Stavans is both author and investigator, creating a complex plot that's a satisfyingly twisty whodunit, while stirring in a rich mix of Mexican, Southwestern, and hidden Jewish history. Steve Sheinkin's calligraphic drawings are the perfect complement to Stavans' Talmudic textual layering of Inquisition archives, Nick and Nora banter, and American literary realism. Fast-moving and philosophical, El Iluminado will entertainingly persuade you that The past is always fictional.'"
N. C. Christopher Couch, author of Jerry Robinson: Ambassador of Comics
Advertisement