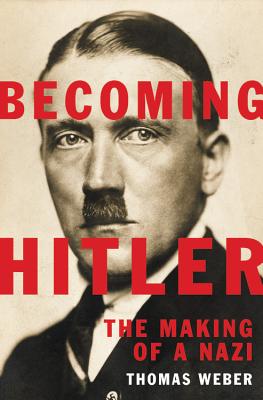 Becoming Hitler (Hardcover)
The Making of a Nazi
Basic Books, 9780465032686, 464pp.
Publication Date: November 7, 2017
Other Editions of This Title:
Digital Audiobook (11/6/2017)
Compact Disc (11/7/2017)
Compact Disc (11/7/2017)
* Individual store prices may vary.
Description

An award-winning historian charts Hitler's radical transformation after World War I from a directionless loner into a powerful National Socialist leader

In Becoming Hitler, award-winning historian Thomas Weber examines Adolf Hitler's time in Munich between 1918 and 1926, the years when Hitler shed his awkward, feckless persona and transformed himself into a savvy opportunistic political operator who saw himself as Germany's messiah. The story of Hitler's transformation is one of a fateful match between man and city. After opportunistically fluctuating between the ideas of the left and the right, Hitler emerged as an astonishingly flexible leader of Munich's right-wing movement. The tragedy for Germany and the world was that Hitler found himself in Munich; had he not been in Bavaria in the wake of the war and the revolution, his transformation into a National Socialist may never have occurred.

In Becoming Hitler, Weber brilliantly charts this tragic metamorphosis, dramatically expanding our knowledge of how Hitler became a lethal demagogue.


About the Author

Thomas Weber is a professor of history and international affairs at the University of Aberdeen, Scotland. The award-winning author of several books, Weber divides his time between Aberdeen, Scotland, and Toronto, Ontario.






Praise For Becoming Hitler: The Making of a Nazi…
"A
well-researched and insightful examination of Adolf Hitler's political
awakening in the early 1920s... extremely thought provoking.... Becoming Hitler offers
timely lessons, the first and most obvious is to underscore the striking
parallels in political psychology between Hitler and Donald Trump."—Forward

"This comprehensive work
should become the standard text on Hitler and the origins of the Nazi party." —Library Journal

"[An] intensively
researched account.... A satisfying, nuts-and-bolts account of the six-year span
during which an obscure ex-soldier became a demagogue the German establishment
should have taken more seriously."—HistoryNet

"Carefully tracking
[Hitler's] life from 1918 to 1926, Weber documents the transformation that
turned this rudderless opportunist into a fiery orator enjoying the support of
millions who hailed him as a political genius, even a messiah.... An unflinching
inquiry."—Booklist

"Compelling research and
original insights bring a fuller understanding to the mind and motives of the
demagogue."—Kirkus Reviews

"In his brilliant Becoming Hitler, Thomas Weber offers an original, well-documented, and enthralling account of the how and why of Hitler's rapid metamorphosis from zero to self-defined hero in the where of 1919 Munich-a city ripped apart by a short civil war and its vengeful aftermath. Weber's book makes us rethink everything we thought we knew about the emergence of Hitler as a political leader."
—Robert Jan van Pelt, University of Waterloo, Canada

"A splendid account of a vile subject."
—Nicholas Stargardt, author of The German War

"Thomas Weber showcases Hitler's terrifying originality as an extremist thinker: committed, from the beginning of his meteoric ascent, to the restoration of German greatness and to the destruction of the Jews. An absolutely compelling and original portrait of a wicked genius in all his grandeur and horror."
—Michael Ignatieff, President, Central European University, Budapest

"Thomas Weber is one of the
foremost world authorities on Hitler. He refuted the mantra that there was
nothing more to say about the German dictator and no new sources to be found
with his path-breaking study of Hitler's First War."—Brendan Simms, author of Europe: The Struggle for Supremacy, 1453 to the Present

"This is the most important
book on Hitler and National Socialism since Ian Kershaw's monumental biography.
It is amazing how much new information and documentation Thomas Weber has used
to show precisely when, how, and why Hitler's world view was shaped, and
precisely where the intellectual, emotional, and social origins of genocide and
of the Holocaust lay."
—Harold James, professor of history, Woodrow Wilson School of Public & International Affairs, Princeton University
or
Not Currently Available for Direct Purchase