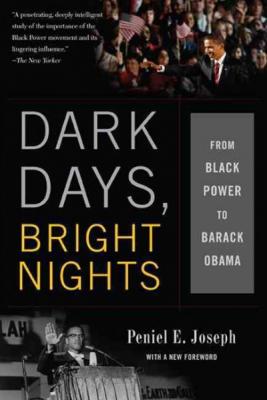 Dark Days, Bright Nights (Paperback)
From Black Power to Barack Obama
Civitas Books, 9780465033133, 296pp.
Publication Date: February 5, 2013
* Individual store prices may vary.
Description
The Civil Rights Movement is now remembered as a long-lost era, which came to an end along with the idealism of the 1960s. In Dark Days, Bright Nights, acclaimed scholar Peniel E. Joseph puts this pat assessment to the test, showing the 60s -- particularly the tumultuous period after the passage of the 1965 Voting Rights Act -- to be the catalyst of a movement that culminated in the inauguration of Barack Obama.

Joseph argues that the 1965 Voting Rights Act burst a dam holding back radical democratic impulses. This political explosion initially took the form of the Black Power Movement, conventionally adjudged a failure. Joseph resurrects the movement to elucidate its unfairly forgotten achievements.

Told through the lives of activists, intellectuals, and artists, including Malcolm X, Huey P. Newton, Amiri Baraka, Tupac Shakur, and Barack Obama, Dark Days, Bright Nights will make coherent a fraught half-century of struggle, reassessing its impact on American democracy and the larger world.
About the Author
Peniel E. Joseph is the Barbara Jordan Chair in Ethics and Political Values at the LBJ School of Public Affairs and professor of history at the University of Texas at Austin. He has written several previous books on African American history, including Stokely: A Life. He lives in Austin, Texas.