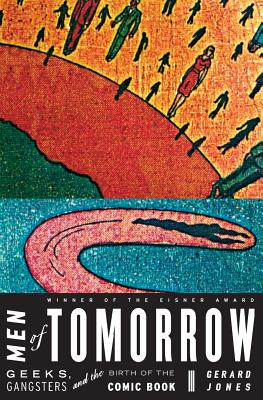 Men of Tomorrow
Geeks, Gangsters, and the Birth of the Comic Book
Paperback

* Individual store prices may vary.
Description
Animated by the stories of some of the last century's most charismatic and conniving artists, writers, and businessmen, Men of Tomorrow brilliantly demonstrates how the creators of the superheroes gained their cultural power and established a crucial place in the modern imagination. "This history of the birth of superhero comics highlights three pivotal figures. The story begins early in the last century, on the Lower East Side, where Harry Donenfeld rises from the streets to become the king of the 'smooshes'-soft-core magazines with titles like French Humor and Hot Tales. Later, two high school friends in Cleveland, Joe Shuster and Jerry Siegel, become avid fans of 'scientifiction,' the new kind of literature promoted by their favorite pulp magazines. The disparate worlds of the wise guy and the geeks collide in 1938, and the result is Action Comics #1, the debut of Superman. For Donenfeld, the comics were a way to sidestep the censors. For Shuster and Siegel, they were both a calling and an eventual source of misery: the pair waged a lifelong campaign for credit and appropriate compensation." -The New Yorker
Basic Books, 9780465036578, 416pp.
Publication Date: October 11, 2005
About the Author
Gerard Jones is a writer whose credits include the New York Times, Harper's, Batman and Spider-Man comics, and Pokémon cartoons. Recently, he has developed the Art & Story Workshops for children and spoken on fantasy, aggression, and the media at institutions around the country. He is the author of Honey, I'm Home: Sitcoms Selling the American Dream and The Comic Book Heroes. He lives in San Francisco with his wife and son.