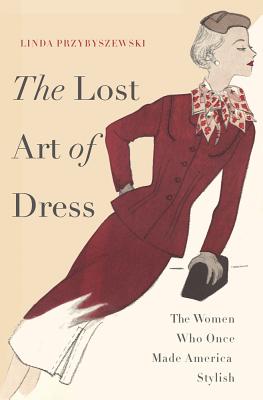 The Lost Art of Dress
The Women Who Once Made America Stylish
Hardcover

* Individual store prices may vary.
Description
"A tribute to a time when style -- and maybe even life -- felt more straightforward, and however arbitrary, there were definitive answers." -- Sadie Stein, Paris Review

As a glance down any street in America quickly reveals, American women have forgotten how to dress. We lack the fashion know-how we need to dress professionally and beautifully. In The Lost Art of Dress, historian and dressmaker Linda Przybyszewski reveals that this wasn't always true.
In the first half of the twentieth century, a remarkable group of women -- the so-called Dress Doctors -- taught American women that knowledge, not money, was key to a beautiful wardrobe. They empowered women to design, make, and choose clothing for both the workplace and the home. Armed with the Dress Doctors' simple design principles -- harmony, proportion, balance, rhythm, emphasis -- modern American women from all classes learned to dress for all occasions in ways that made them confident, engaged members of society.

A captivating and beautifully illustrated look at the world of the Dress Doctors, The Lost Art of Dress introduces a new audience to their timeless rules of fashion and beauty -- rules which, with a little help, we can certainly learn again.
Praise For The Lost Art of Dress: The Women Who Once Made America Stylish…
"A fascinating and valuable book."—Boston Globe

"The writing is sharp; the research thorough; and the book's illustrations a lone are worth the price of entry."—Books & Culture

"A fascinating read.... Highly recommended!"—A Dress A Day

"An important, even revolutionary book."—Acculturated

"Like another forgotten artifact, the hope chest, her...book is most delightfully and fragrantly packed."—New York Times Book Review

"A witty look at well-dressed women and a defense of the classic home-economics course."—Columbus Dispatch

"If you love history as much as sewing, or are fascinated by the sewing the style manuals of the past, pick up a copy of The Lost Art of Dress."—Threads Magazine

"[Przybyszewski's] wit and intelligence make this book as entertaining as it is informative."—Shop the Garment District blog

"Linda Przybyszewski's remarkable, enchanting, well-researched history of America at its most stylish reminds us that once upon a time we were classy and fabulous."—Karen Karbo, author of The Gospel According to Coco Chanel
Basic Books, 9780465036714, 400pp.
Publication Date: April 29, 2014
About the Author
Linda Przybyszewski is an associate professor of history at the University of Notre Dame. The author of The Republic According to John Marshall Harlan, the editor of Some Memories of a Long Life, 1854-1911, as well as a prize-winning dressmaker, she lives in South Bend, Indiana.