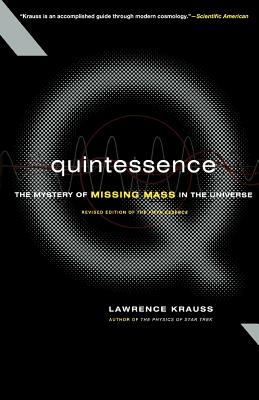 Quintessence
The Mystery of Missing Mass in the Universe
Paperback

* Individual store prices may vary.
Description
Will the universe continue to expand forever, reverse its expansion and begin to contract, or reach a delicately poised state where it simply persists forever? The answer depends on the amount and properties of matter in the universe, and that has given rise to one of the great paradoxes of modern cosmology: there is too little visible matter to account for the behavior we can see. Over ninety percent of the universe consists of "missing mass" or "dark matter" - what Lawrence Krauss, in his classic book, termed "the fifth essence."In this new edition of T he Fifth Essence , retitled Quintessence after the now widely accepted term for dark matter, Krauss shows how the dark matter problem is now connected with two of the hottest areas in recent cosmology: the fate of the universe and the "cosmological constant." With a new introduction, epilogue, and chapter updates, Krauss updates his classic for 1999 and shares one of the most stunning discoveries of recent years: an anti-gravity force that explains recent observations of a permanently expanding universe.
Basic Books, 9780465037414, 384pp.
Publication Date: December 21, 2000
About the Author
Lawrence M. Krauss is Ambrose Swasey Professor of Physics and Professor of Astronomy and Director of the Center for Education and Research in Cosmology and Astrophysics at Case Western Reserve University. He is the only physicist to have received the top awards by the American Physical Society, the American Institute of Physics, and the American Association of Physics Teachers. He lives in Cleveland, Ohio.