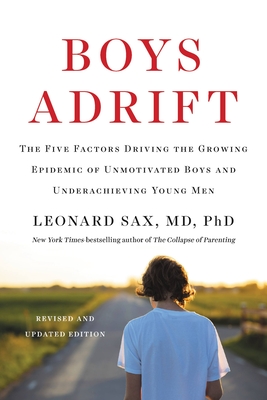 Boys Adrift
The Five Factors Driving the Growing Epidemic of Unmotivated Boys and Underachieving Young Men
Paperback

* Individual store prices may vary.
Other Editions of This Title:
Digital Audiobook (6/26/2017)
Paperback, Chinese (10/29/2020)
Compact Disc (6/27/2017)
Hardcover (8/1/2007)
Audio Cassette (8/1/2008)
Paperback (2/1/2009)
Description
Why America's sons are underachieving, and what we can do about it.

Something is happening to boys today. From kindergarten to college, American boys are, on average, less resilient and less ambitious than they were a mere twenty years ago. The gender gap in college attendance and graduation rates has widened dramatically. While Emily is working hard at school and getting A's, her brother Justin is goofing off. He's more concerned about getting to the next level in his videogame than about finishing his homework.
In Boys Adrift, Dr. Leonard Sax delves into the scientific literature and draws on more than twenty years of clinical experience to explain why boys and young men are failing in school and disengaged at home. He shows how social, cultural, and biological factors have created an environment that is literally toxic to boys. He also presents practical solutions, sharing strategies which educators have found effective in re-engaging these boys at school, as well as handy tips for parents about everything from homework, to videogames, to medication.
Praise For Boys Adrift: The Five Factors Driving the Growing Epidemic of Unmotivated Boys and Underachieving Young Men…
"Boys Adrift is a must-read for any parent of boys. This is real science, and Dr. Sax thoroughly uncovers the important health issues that parents of boys need to be tuned into."—Dr. Mehmet Oz

"Excellent and informative references and information are provided . . . Powerfully and persuasively presented."—The Journal of the American Medical Association

"Fascinating...terrifying...Sax identifies an epidemic of lost boys. Luckily, he offers solutions."—Glob and Mail (Canada)

"Sax, in his pointed, conversational new book, Boys Adrift, reports seeing something new in his medical practice, and hearing something disturbing in the comments after his talks around the nation. Parents and girlfriends describe boys and young men plastered to the controls of their video games, hostile to school, disconnected from adult men and listless on "academic steroids" prescribed to them for attention deficit disorders. Sax zeroes in on these maladies . . .Boys Adrift is an important entry into the conversation. This call to reconsider how the boy becomes the man is worth heeding."—The Cleveland Plain Dealer

"Boys Adrift presents a straightforward argument that incorporates solid research and, thankfully, does not blame feminism. . . Sax also makes sure to remind us that he doesn't think girls have it easier. But at a time when it is almost unusual to find a young man with drive and direction, Sax's work is an important part of a growing public discussion. "—The Stranger

"Sax's discussion of a "failure to launch" will ring true for many parents and other concerned adults, and his final chapter on detoxing the modern environment for boys and girls should provoke both thought and action. Though Sax's book is written in a conversational tone, his documentation is thorough and impressive. This is an important book, especially for parents and educators, but for anyone who is concerned with the well-being of our society and its young people. "—The Daily Herald

"Startling...like a brick thrown through your window."—CBC
Basic Books, 9780465040827, 352pp.
Publication Date: June 28, 2016
About the Author
Leonard Sax, M.D., Ph.D., is a board-certified family physician, psychologist, and author of Why Gender Matters, Boys Adrift, and The Collapse of Parenting. As the founder and executive director of the National Association for Single Sex Public Education (NASSPE), Sax has spoken on child development in over a dozen countries and has appeared across major broadcast radio and television, including programs on CBS, CNN, Fox, CBC, BBC, and PBS. Sax lives with his family in in Chester County, Pennsylvania.