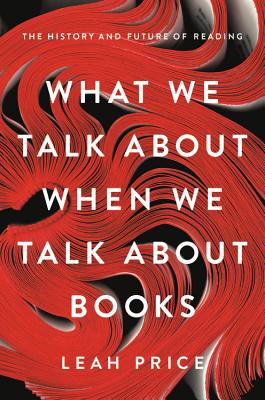 What We Talk About When We Talk About Books
The History and Future of Reading
Hardcover

* Individual store prices may vary.
Other Editions of This Title:
Digital Audiobook (8/19/2019)
Compact Disc (8/20/2019)
Compact Disc (8/20/2019)
Description
Reports of the death of reading are greatly exaggerated Do you worry that you've lost patience for anything longer than a tweet? If so, you're not alone. Digital-age pundits warn that as our appetite for books dwindles, so too do the virtues in which printed, bound objects once trained us: the willpower to focus on a sustained argument, the curiosity to look beyond the day's news, the willingness to be alone. The shelves of the world's great libraries, though, tell a more complicated story. Examining the wear and tear on the books that they contain, English professor Leah Price finds scant evidence that a golden age of reading ever existed. From the dawn of mass literacy to the invention of the paperback, most readers already skimmed and multitasked. Print-era doctors even forbade the very same silent absorption now recommended as a cure for electronic addictions. The evidence that books are dying proves even scarcer. In encounters with librarians, booksellers and activists who are reinventing old ways of reading, Price offers fresh hope to bibliophiles and literature lovers alike.
Winner of the Phi Beta Kappa Christian Gauss Award, 2020
Praise For What We Talk About When We Talk About Books: The History and Future of Reading…
"Price's book-unlike other examples of what she calls 'autobibliography'-is funny and hopeful, rather than dour and pious...What We Talk About When We Talk About Books is an enjoyable tour, full of surprising byways into historical arcana."—Jennifer Szalai, New York Times

"[Price] is not an elegist for print: her extraordinary grasp of every development in book history, from incunabula to beach reads, monasteries to bookmobiles, suggests that a love of printed matter need not be a form of nostalgia...Her radiant descriptions of the physical properties of books, the forensic traces-from smudges to candle wax-of earlier bodies holding them, immediately sent me to the Internet..."—Dan Chiasson, New Yorker

"A witty, tonic rebuttal to the latest round of doomsday prognostications about the fate of literature."—Wall Street Journal


"Price's premise, that there truly was no golden age of reading that we should be trying to get back to, is presented with humor and charm...Those still worried that technology has spoiled their attention span shouldn't be."—Booklist

"Predictions of the death of the book weren't only greatly exaggerated; as Leah Price notes in What We Talk About When We Talk About Books, they were old news. The book has survived numerous death sentences in the past, and this time, as before, it's been the occasion to reinvent old practices of reading. What the Victorians called "furniture books" continue to adorn coffee tables and the Ikea shelves widened to accommodate them. People still hold books in their laps on couches and in coaches (enjoying the "library atmosphere" of Amtrak quiet cars). Self-help books have their roots the "bibliotherapy" proposed a century ago. It is still a very bookish world that we inhabit, and I know of no guide to it more witty and engaging than Leah Price, whose insights, erudition, and apercus had me dog-earing every other page."—Geoff Nunberg, resident linguist, NPR's Fresh Air

"Eye-opening and filled with delightful nuggets of truth, What We Talk About When We Talk About Books offers no nostalgia for a more tranquil reading past but rather a hopeful glimpse into an essential reading future."—BookPage

"A deeply researched and deeply fun-to-read reassurance that there is still hope for books-and that there always has been."—Shelf Awareness

"Price combines a lighthearted romp through literary history with a serious intent: to argue that the rise of e-texts is not the radical change often claimed...Provides welcome comfort that the beloved book is in good shape, regardless of the form it ultimately takes."—Publishers Weekly

"Price is one of the most interesting and provocative writers on books of her generation...[She] doesn't so much build arguments as allow ideas to explode on the page, detonating chain reactions as she goes. What We Talk About When We Talk About Books not only does its talking in original ways but also makes us think intensely about what books are."—Literary Review

"Books are not dead. That's the good news in this set of bookish essays...Readers who enjoy books about books will find much to like here."—Kirkus

"Pithy and compact...[Price is] an engagingly breezy writer with a real talent for a clever phrase, and she wears her expansive learning lightly."—Pittsburgh Post-Gazette

"No one writes about books-and their bookness-with anything close to the daunting curiosity and dazzling acuity of the inimitable Leah Price. What We Talk About When We Talk About Books is a rags to paper to Amazon Kindle bookshelf of delight and instruction, as entertaining as it is illuminating."—Jill Lepore, author of These Truths: A History of the United States

"Leah Price's radiantly intelligent book makes us rethink and re-view the endlessly alive, endlessly shape-shifting and self-reinventing activity that is reading. Its cracking readability -- when was the last time you had to disable the wifi for a book on books? -- should not disguise how cogently and coherently it is argued, and the depth of learning with which its arguments are meticulously substantiated. It is also profoundly witty, funny, and beautifully written (when was the last time you thought that about a book on books?). You emerge, after turning the last page, a smarter, better informed, joyous person."—Neel Mukherjee, Man Booker Prize-finalist author of The Lives of Others and A State of Freedom

"At once authoritative and accessible, Price's account busts many myths about both the past and the future of reading. Long may it keep us talking about books!"—William H. Sherman, Director, Warburg Institute, University of London

"As entertaining as it is insightful, What We Talk About When We Talk About Books is part history, part social commentary, part memoir, and fully engaging. Leah Price pithily assesses the uses of books past and present, and upends assumptions about the future of books in a digital age. Her contagious delight in books makes this book a delight."—Maya Jasanoff, author of The Dawn Watch: Joseph Conrad in a Global World

"A dizzying, myth-busting history of reading. Upends a whole toolbox of old saws about readers' habits."—Keith Houston, author of The Book: A Cover-to-Cover Exploration of the Most Powerful Object of Our Time
Basic Books, 9780465042685, 224pp.
Publication Date: August 20, 2019
About the Author
Leah Price has taught English at Cambridge University, Harvard University, and Rutgers University, where from fall 2019 onward she will be founding director of the Rutgers Book Initiative. She is the author How to Do Things with Books in Victorian Britain and the editor of Unpacking My Library.