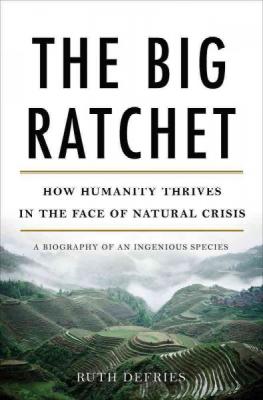 The Big Ratchet
How Humanity Thrives in the Face of Natural Crisis
Hardcover

* Individual store prices may vary.
Other Editions of This Title:
Digital Audiobook (9/8/2014)
Compact Disc (9/9/2014)
MP3 CD (9/9/2014)
Description
How an ordinary mammal manipulated nature to become technologically sophisticated city-dwellers -- and why our history points to an optimistic future in the face of environmental crisis

Our species long lived on the edge of starvation. Now we produce enough food for all 7 billion of us to eat nearly 3,000 calories every day. This is such an astonishing thing in the history of life as to verge on the miraculous. The Big Ratchet is the story of how it happened, of the ratchets -- the technologies and innovations, big and small -- that propelled our species from hunters and gatherers on the savannahs of Africa to shoppers in the aisles of the supermarket.

The Big Ratchet itself came in the twentieth century, when a range of technologies -- from fossil fuels to scientific plant breeding to nitrogen fertilizers -- combined to nearly quadruple our population in a century, and to grow our food supply even faster. To some, these technologies are a sign of our greatness; to others, of our hubris. MacArthur fellow and Columbia University professor Ruth DeFries argues that the debate is the wrong one to have. Limits do exist, but every limit that has confronted us, we have surpassed. That cycle of crisis and growth is the story of our history; indeed, it is the essence of The Big Ratchet. Understanding it will reveal not just how we reached this point in our history, but how we might survive it.
Praise For The Big Ratchet: How Humanity Thrives in the Face of Natural Crisis…
"The Big Ratchet is a well-researched and highly readable account of how we came to be a 'world dominating urban species', and the opportunities and threats we will face in feeding a world of 9 billion people with only a small minority living in rural areas. For those who have deep concerns about our ability to meet future food needs, this book provides at least some reassurance that we have done it before."—Nature Geoscience

"[The Big Ratchet] is a fast-moving and information-packed history of human appetites.... DeFries does environmentalism a favor by presenting this history as a dialectic that never ends."—Orion

"[A]n interesting and timely thesis.... This is an environmental history, chockablock with examples from the past that might guide us in the future."—Toronto Star

"Ruth DeFries has written a brilliant book that starts with the origin of Earth and life on our planet, and goes through thousands of years of ecological history and one natural crisis after another.... DeFries has a nuanced and sophisticated view of human history.... [The Big Ratchet] is a beautifully written book that is unique in combining wisdom, scientific discovery, and story-telling."—Cool Green Science

"[A] lucid and intelligent book.... There is something satisfyingly stark and elemental about DeFries' focus on food, which, she notes, is 'our most fundamental connection with nature'."—Financial Times

"Engaging and optimistic...a book that considers human progress not as an ever-ascending scale but as a sort of fugue with a repeating theme." —Wall Street Journal

"An admirable history of human ingenuity that does not claim it will overcome such looming crises as overpopulation and global warming."—Kirkus Reviews

"Is there a tale more astonishing and improbable than the human story? Lurching between triumph and catastrophe, humankind has transformed itself from a run-of-the-mill forager on the African savanna into a species that dominates every corner of the planet. Now, as our numbers surpass 7 billion, Ruth DeFries shows how our remarkable past can serve as a guide to thinking about our uncertain future. Neither a hymn to optimism nor an invocation of catastrophe, The Big Ratchet is an essential account of how we got to be where we are."—Charles C. Mann, author of 1491

"Timely.... Clearly demonstrates the role of science in converting calamities into opportunities. The Big Ratchet provides a message of hope in the midst of the sea of despair we see in the areas of sustainable development and environmental protection. Ruth DeFries has rendered an invaluable service."—M. S. Swaminathan, Founder and Chairman, M. S. Swaminathan Research Foundation

"Forget farm to table; this history shows that the food on your plate has a history stretching back to the dawn of the species."—Emma Marris, author of Rambunctious Garden
Basic Books, 9780465044979, 288pp.
Publication Date: September 9, 2014
About the Author
Ruth DeFries is Denning Family Professor of Sustainable Development and Chair of the Department of Ecology, Evolution and Environmental Biology at Columbia University. A recipient of the MacArthur Genius" Fellowship, she lives in New York City.