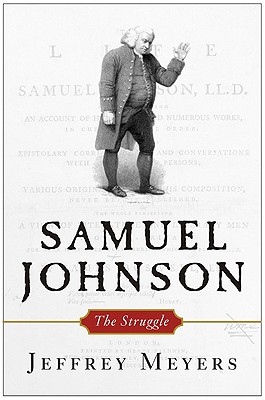 Samuel Johnson
The Struggle
Hardcover

* Individual store prices may vary.
Description
Ford Madox Ford declared Samuel Johnson "the most tragic of all our major literary figures." Blessed with a formidable intellect and a burning passion for ideas, Johnson also struggled throughout his life with mental instability and numerous physical defects. One of the most illustrious figures of the English literary tradition, Johnson made his fame as poet, essayist, critic, dictionary-maker, conversationalist, and all-around larger-than-life personality. His success was all the greater for the adversity he had to overcome in achieving it.
Drawing on a lifetime of study of Johnson and his era, as well as a wide array of new archival materials, noted biographer Jeffrey Meyers tells the extraordinary story of one of the great geniuses of English letters. Johnson emerges in his portrait as a mass of contradictions: lazy and energetic, aggressive and tender, melancholy and witty, comforted yet tormented by religion. He was physically repulsive and slovenly in dress and habits, but his social ideas were progressive and humane--he strongly opposed slavery and the imperial exploitation of indigenous peoples. He gave generously to the poor and homeless, rescued prostitutes, and defended criminals who'd been condemned to hang. But these charitable acts could not dispel the darkness that clouded his world: overwhelming guilt and fear of eternal damnation.
A masterful portrait of a brilliant and tormented figure, this book reintroduces a new generation of readers to the heroic Dr. Johnson.
Praise For Samuel Johnson: The Struggle…
Financial Times
"Entertaining, perceptive and well-written."
The New Yorker
"Meyers, to his credit, tries to look frankly at the evidence about [Johnson's and Hester Thrale's] peculiar erotic relation. The result is to make Johnson even more of a personality, and less of a pedant; he emerges as a man of passion and pain, given and taken, a professor of desire."
Boston Globe
"[An] informed, sprightly read…[that] increase[s] our knowledge by presenting a more sexual and tormented Johnson than we've known."
Los Angeles Times
"This is one of those rare works that does equal justice to the standards of the academy and to an intelligent reader's desire to be both edified and entertainingly engaged…. [An] exemplary biography…[that] does full justice to the ever-remarkable Samuel Johnson."
Washington Post
"If you know Johnson's work and want to see it in context, turn first to Meyers."
Dallas Morning News
"Accessible... [and] at home amid the chaos of Johnson's daily life."
St. Louis Post-Dispatch
"[A] vivid account of a man who fit the cliché of being larger than life."
Providence Journal
"With Meyers [as our guide]… we're above the hubbub and we see more comprehensively and objectively…. In the end, Meyers captures Johnson's 'powerful intellect,' but his torment, too."

Choice
"[T]hose less familiar with Johnson will enjoy this approachable book."

Newsweek
"Read…Jeffrey Meyers for the splendid manner in which he places Johnson in the context of 18th-century England – not to mention for the latest dose of good old 18th-century pathology."

The Weekly Standard
"Meyers has written an engaging book. Thoroughly in command of his sources, he writes with brisk efficiency and has genuinely new things to say about the life and work."
Basic Books (AZ), 9780465045716, 528pp.
Publication Date: December 2, 2008
About the Author
Jeffrey Meyers holds a Ph.D. in English literature. He has written over twenty books, and is a frequent contributor to the New Criterion, Los Angeles Times Book Review, and Times Higher Education Supplement. He lives in Kensington, California.
or
Not Currently Available for Direct Purchase