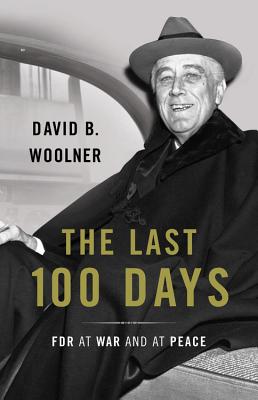 The Last 100 Days
FDR at War and at Peace
Hardcover

* Individual store prices may vary.
Other Editions of This Title:
Digital Audiobook (12/11/2017)
MP3 CD (12/12/2017)
Compact Disc (12/12/2017)
Description
A revealing portrait of the end of Franklin Delano Roosevelt's life and presidency, shedding new light on how he made his momentous final policy decisions

The first hundred days of FDR's presidency are justly famous, often viewed as a period of political action without equal in American history. Yet as historian David B. Woolner reveals, the last hundred might very well surpass them in drama and consequence.

Drawing on new evidence, Woolner shows how FDR called on every ounce of his diminishing energy to pursue what mattered most to him: the establishment of the United Nations, the reinvigoration of the New Deal, and the possibility of a Jewish homeland in Palestine. We see a president shorn of the usual distractions of office, a man whose sense of personal responsibility for the American people bore heavily upon him. As Woolner argues, even in declining health FDR displayed remarkable political talent and foresight as he focused his energies on shaping the peace to come.
Praise For The Last 100 Days: FDR at War and at Peace…
"Excellent...remarkably well-researched...a valuable contribution to our knowledge of Roosevelt."—Washington Post

"A balanced, readable book based on thorough archival sources that will have considerable appeal to historians and political scientists, as well as general readers interested in the presidency."—Library Journal

"An elucidating, poignant study of an elusive leader." —Kirkus Reviews

"They say the fruit tree produces its greatest harvest in its last season. Perhaps the last few months of FDR's administration, so overshadowed by the first few months, may be as important. Woolner deftly brings those last moments in power beautifully alive and leaves us with a lasting sense of the man as well as his accomplishments."—Ken Burns

"The Last 100 Days is an imaginative, deeply researched page-turner that is a pleasure to read. At a time when many Americans find the White House desolating, David Woolner invites the reader to enjoy some time with a president who, even in his final year, radiated good cheer and hope for our country's future."—William E. Leuchtenburg, William Rand Kenan, Jr. Professor Emeritus at the University of North Carolina at Chapel Hill and author of Franklin D. Roosevelt and the New Deal, 1932-1940

"In this magisterial account, David Woolner makes a compelling case that FDR's last hundred days deserve to be ranked in importance with the first. Drawing on unequalled knowledge of both Roosevelt and the sources, Woolner refutes the notion of a feeble dying president who had lost his grip and was unwilling to confront difficult issues. He shows that an exhausted FDR conserved his limited energies single-mindedly to concentrate in the two most important issues facing the President--winning the war over the Axis powers and securing post-war international cooperation. A wonderfully lucid and convincing study."—Tony Badger, professor of American history at Northumbria University and author of FDR: The First Hundred Days

"Everyone knows about FDR's First Hundred Days but until now there has been little notice of his last. In this finely-honed and impressively accessible account, David Woolner offers an up-close and insightful look at a dying president wrongly maligned for giving away too much at Yalta and beset by the immediate dangers of the postwar period."—Jonathan Alter, author of The Defining Moment: FDR's Hundred Days and the Triumph of Hope

"David Woolner has 'hung around' with FDR for over a quarter-century, and we are the beneficiary of that special relationship. Neatly using the last hundred days as a vehicle for a broader assessment, Woolner has given us an honest, solidly researched appreciation of Roosevelt's dreams and actions--dreams and actions that shaped the remainder of the 20th century."—Warren Kimball, author of Forged in War: Churchill, Roosevelt, and the Second World War

"At a time when a majority of Americans are so disillusioned about politics, and with a sitting president under investigation for possible impeachable offenses, David Woolner's book offers a compelling look at a great Chief Executive. His portrait of FDR's last hundred days is a powerful reminder of courageous leadership and provides hope that we can return to presidential effectiveness in the not too distant future."—Robert Dallek, presidential historian and author of An Unfinished Life: John F. Kennedy, 1917-1963

"We know the story-of course we do. But David Woolner invests it with a sense of Greek tragedy, as we watch a man struggling against time, fate and the furies to complete his life's work. In The Last 100 Days, Woolner uses his unrivalled knowledge of the archives to bring alive with vivid new detail FDR's grand finale and to show how the dying president tried to bring peace to the world--even though his private life remained in turmoil. In an era when the American presidency is under particularly intense scrutiny, here is a sobering yet uplifting account of the demands and costs of power."—David Reynolds, author of From Munich to Pearl Harbor

"Franklin Roosevelt's last 100 days were every bit as fascinating and consequential as his first. If you want to know how much of the modern world came to be, this is the place to begin."—Geoffrey C. Ward, author of A First Class Temperament: The Emergence of Franklin Roosevelt
Basic Books, 9780465048717, 368pp.
Publication Date: December 12, 2017
About the Author
David B. Woolner is a senior fellow and resident historian at the Roosevelt Institute and a professor of history at Marist College. He lives in Rhinebeck, New York.