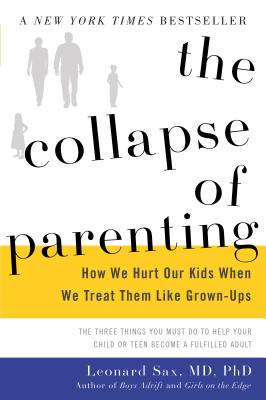 The Collapse of Parenting (Hardcover)
How We Hurt Our Kids When We Treat Them Like Grown-Ups
Basic Books, 9780465048977, 304pp.
Publication Date: December 29, 2015
Other Editions of This Title:
Paperback (5/9/2017)
Paperback, Chinese (7/29/2016)
* Individual store prices may vary.
Description
In this New York Times bestseller, one of America's premier child psychologists offers a must-read account of the dismal state of parenting today, and a vision for how we can better prepare our children for the challenges of the adult world
In The Collapse of Parenting, internationally acclaimed author Leonard Sax argues that rising levels of obesity, depression, and anxiety among young people can be traced to parents abdicating their authority. The result is children who have no standard of right and wrong, who lack discipline, and who look to their peers and the Internet for direction. Sax shows how parents must reassert their authority - by limiting time with screens, by encouraging better habits at the dinner table, and by teaching humility and perspective - to renew their relationships with their children. Drawing on nearly thirty years of experience as a family physician and psychologist, along with hundreds of interviews with children, parents, and teachers, Sax offers a blueprint parents can use to help their children thrive in an increasingly complicated world.
About the Author
Leonard Sax, M.D., Ph.D., is a practicing physician, a psychologist, and a speaker for community groups and for schools. The author of Why Gender Matters, Boys Adrift, and Girls on the Edge, Sax lives with his family in suburban Philadelphia, Pennsylvania.
Praise For The Collapse of Parenting: How We Hurt Our Kids When We Treat Them Like Grown-Ups…
"[Sax is] sounding some alarms that we'd do well
to heed, and for our kids' sakes, I think sooner is better than later."—Chicago Tribune

"Dr. Leonard Sax's The Collapse of
Parenting should be required reading for all parents."—Dr. Nancy Kehoe, author of Wrestling with Our Inner Angels

"[Sax's]
guidelines are clear and well-supported."—Booklist

"A
comprehensive breakdown of where parents have gone awry and how they can get
back on track to teach virtue and character to their children."—Kirkus

"The Collapse of Parenting is one of the best books I've ever
read on the subject of raising children. It's not written from a religious
perspective, but it's chock-full of information every parent should have."—National Catholic Register

"The Collapse of Parenting may sound
like a lone voice in the world of American parenting these days, but it's a
desperately needed one.... If you're going to read a single parenting book this
year, please make it this one."—Treehugger.com

"If
you're going to read one book on parenting this year, make it The
Collapse of Parenting by Leonard Sax."—New York Journal of Books

"The
family unit is in unprecedented decline and under assault from a wide variety
of cultural forces. With years of experience and research working directly with
parents and children, Dr. Leonard Sax provides an important glimpse into
parenting in modern times, where it's gone wrong, and how to fix it. Being a
parent has never been more important and Dr. Sax explains how to avoid
parenting pitfalls and raise your children well."—Dr. Bill Bennett, former United States Secretary of Education

"Based
on years of extensive clinical practice and interviews with students and
parents internationally, Sax presents a sobering and alarming picture of the
collapse of parenting in this country. But he does not leave the reader without
hope; he offers simple, if not easy solutions, giving parents an accessible
guide to help them regain their rightful roles."—Dr. Nancy Kehoe, assistant clinical professor of psychology at Harvard Medical School, and author of Wrestling with Our Inner Angels: Faith, Mental Illness and the Journey to Wholeness

"It
is time for us to get real as a society. Dr. Leonard Sax has issued both a
warning and an encouragement for parents to take up their proper roles in
leading their children to a truly mature adulthood. His book is a highly
readable and well-informed challenge for us."—Dr. Timothy Wright, Headmaster, Shore School, Sydney (Australia)
Coverage from NPR
or
Not Currently Available for Direct Purchase