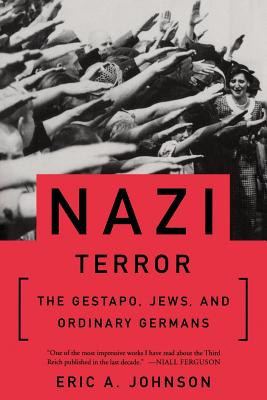 Nazi Terror
The Gestapo, Jews, and Ordinary Germans
Paperback

* Individual store prices may vary.
Description
Eric Johnson's exhaustive new history tackles the central aspect of the Nazi dictatorship - terror - head on. By focusing on the role of the individual and on the role of the society in making terror work, he is able to definitively and dramatically answer such questions as these: Who were the Gestapo officers? Were they merely banal paper shufflers, as Hannah Arendt depicted Eichmann, or were they recognizably evil? What tactics did they use? Were they motivated by an eliminationist anti-Semitism? Did the average German know about the mass murder of Jews and other undesirables while it was happening? Exactly how was Nazi terror applied in the daily lives of ordinary Jews and Germans? Johnson spent years of research in Gestapo archives in three Rhineland communities, reading and analyzing more than 1100 Gestapo and "special court" case files. He conducted surveys and interviews with German perpetrators, Jewish victims, and ordinary Germans who experienced the Third Reich at first hand. Consequently, his book is able to settle many nagging questions about who, exactly, was responsible for what, who knew what, and when they knew it. Nazi Terror is the most fine-grained portrait we may ever have of the mechanism of terror in a dictatorship.
Basic Books, 9780465049080, 664pp.
Publication Date: December 4, 2000
About the Author
Eric A. Johnson is the author of Urbanization and Crime: Germany 1871-1914 and The Civilization of Crime: Violence in Town and Country Since the Middle Ages. A professor of history at Central Michigan University and a fellow of The Netherlands Institute for Advanced Study, he lives in Mt. Pleasant, Michigan.