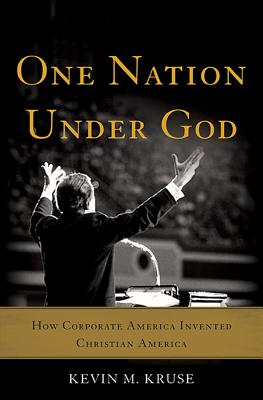 One Nation Under God (Hardcover)
How Corporate America Invented Christian America
Basic Books, 9780465049493, 384pp.
Publication Date: April 14, 2015
* Individual store prices may vary.
Description
We're often told that the United States is, was, and always has been a Christian nation. But in One Nation Under God, historian Kevin M. Kruse reveals that the idea of "Christian America" is an invention—and a relatively recent one at that.

As Kruse argues, the belief that America is fundamentally and formally a Christian nation originated in the 1930s when businessmen enlisted religious activists in their fight against FDR's New Deal. Corporations from General Motors to Hilton Hotels bankrolled conservative clergymen, encouraging them to attack the New Deal as a program of "pagan statism" that perverted the central principle of Christianity: the sanctity and salvation of the individual. Their campaign for "freedom under God" culminated in the election of their close ally Dwight Eisenhower in 1952.

But this apparent triumph had an ironic twist. In Eisenhower's hands, a religious movement born in opposition to the government was transformed into one that fused faith and the federal government as never before. During the 1950s, Eisenhower revolutionized the role of religion in American political culture, inventing new traditions from inaugural prayers to the National Prayer Breakfast. Meanwhile, Congress added the phrase "under God" to the Pledge of Allegiance and made "In God We Trust" the country's first official motto. With private groups joining in, church membership soared to an all-time high of 69%. For the first time, Americans began to think of their country as an officially Christian nation.

During this moment, virtually all Americans—across the religious and political spectrum—believed that their country was "one nation under God." But as Americans moved from broad generalities to the details of issues such as school prayer, cracks began to appear. Religious leaders rejected this "lowest common denomination" public religion, leaving conservative political activists to champion it alone. In Richard Nixon's hands, a politics that conflated piety and patriotism became sole property of the right.

Provocative and authoritative, One Nation Under God reveals how the unholy alliance of money, religion, and politics created a false origin story that continues to define and divide American politics to this day.


About the Author
Kevin M. Kruse is a professor of history at Princeton University and the author or co-editor of four books, including the award-winning White Flight. Kruse lives in Princeton, New Jersey.

Praise For One Nation Under God: How Corporate America Invented Christian America…
H-Net, H-AmRel
"Both contributes decisively to an ongoing scholarly conversation and introduces its readers to a plethora of little-known documents, archives, organizations, and individuals.... A significant contribution to the history of the Christian Right, the Cold war, and the culture wars of the recent past…"
Religion in American History
"An eminently readable book, chock-full of lively and entertaining anecdotes."
Patheos
"Engagingly traces the rise of the Christian Right as a political force in America....
One Nation Under God
is an important book. We — Christians and Americans — need to understand our history.... In
One Nation Under God
Kruse offers us a potent reminder of where we have come from, and, perhaps more importantly, how far we still have to go."
Sojourners
"A thorough and fascinating treatment of a little known thread of U.S. history."
National Memo
"A new, meticulous, and vital historical account that should be read by anyone who still scratches their head over whether the Tea Party is a religious movement, or wonders how the idealized conception of America as a 'Christian nation' was constructed.... Essential reading for anyone who wants to understand that uniquely American alliance between God and mammon."
New York Times Book Review
"Kruse tells a big and important story about the mingling of religiosity and politics since the 1930s."

Wall Street Journal
"America was founded in 1776, but it was only in 1953, with the inauguration of Dwight David Eisenhower as the 34th president, that it became a Christian nation. Such is Kevin M. Kruse's thesis and, after reading One Nation Under God, it makes perfect sense… an important and convincing reminder that the roots of Christian America were cultivated well before the era of the religious right."

Washington Post
"Fascinating."

The Nation
"An illuminating addition to the growing field of the history of American conservatism and capitalism, as well as a vibrant study of the way cultural influence works—one that will make it impossible to take for granted the small print on the back of a dollar bill ever again.... This is what's most interesting in the story Kruse is telling: the pattern of continuity and change that links our own time with those that came before."

Foreign Affairs
"[A] fine new book.... Kruse's thoughtful book illustrates a kind of life cycle of American religious politics: fervent social movements rise up, crest with presidential support, and then slip away, leaving behind rituals, rhetoric, rules, and reforms."

Shelf Awareness for Readers
"A detailed history of the roots of the campaign arguing that the United States is a Christian nation."

Commonweal
"A lucid narrative..."

Bookforum
"[An] engaging history of modern religious nationalism ... briskly narrated and richly detailed..."

Library Journal, Editors' Spring Picks
"Kruse addresses how corporations used clergymen in their PR war against Roosevelt's New Deal and how evangelist Billy Graham helped Dwight Eisenhower and Richard Nixon use religion as the 'lowest-common denominator' to unite the public. I've yet to finish it, but I can already tell this will be an informative, insightful read."

Kirkus, starred review
"In a book for readers from both parties, Kruse ably demonstrates how the simple ornamental mottoes 'under God' and 'In God We Trust,' as well as the fight to define America as Christian, were parts of a clever business plan."

Library Journal, starred review
"Thorough and thought-provoking scholarship.... Kruse reveals the marketing machine behind American godliness with authority, insight, and clarity. He illustrates key turning points along the way to provide a cohesive picture of a well-powered movement. He hands us the agenda behind the Pledge of Allegiance, 'in God we trust,' and other cornerstones of American patriotism. In short, he exposes the PR man behind the pious curtain."

E.J. Dionne, Jr., author of Souled Out: Reclaiming Faith and Politics after the Religious Right
"Much has been written about the religious right, but Kevin Kruse has written a breakthrough book by describing the movement's pre-history in the 1930s and 1950s—and in fascinating detail. Engagingly written, One Nation Under God will provoke many arguments, but it will require all sides to come to terms with facts and events largely buried in our collective memory until Kruse bravely set out to challenge our assumptions."

Dallas Morning News
"Illuminating ... a useful corrective to preacher-politicians who endlessly call for a return to the nation's religious roots. As Kruse skillfully demonstrates, some of those roots took hold only yesterday."

The New Republic
"A deftly detailed history of Christianity's service to capitalism in the United States."

Christianity Today
"An engaging and important book..."

The American Prospect
"Fascinating, vividly drawn portraits of many players in this drama."

America
"A fresh and revealing re-examination of the oft-studied career of the phrase 'under God'.... A deft elaboration on the irony of the corporate involvement in the Christian America promotion ... [a] literary portrait taken during the last decades in which Protestant powers 'ran the show.'"

Humanist
"The author lays out a new mega-subdivision in our sprawling religious history. The result exposes a class of pulpit vipers who infect an insecure quarter of the population and who can never shake the feeling they are not as believed in as they believe they should be."

Jon Butler, Professor Emeritus of American Studies, History, and Religious Studies at Yale University
"Kevin M. Kruse's startling One Nation Under God reveals the extraordinary Cold War politics that put 'under God' in America's Pledge of Allegiance, 'In God We Trust' on U.S. stamps, and Cecil B. DeMille's The Ten Commandments on Hollywood's biggest movie list. The political warriors for a 'Christian America' made the Puritans look like pikers, and Kruse dissects their successes and foibles with grace, glowing research, and more than a little humor. A compelling read!"

Andrew Preston, author of Sword of the Spirit, Shield of Faith: Religion in American War and Diplomacy
"In this riveting book, Kevin Kruse combines the history of religion with the history of capitalism to craft an original interpretation about America's religious identity. Revisionist in the best sense—bold, daring, and intelligent—it will change how we think about the American past."

Ari Kelman, author of the Bancroft Prize-winning A Misplaced Massacre
"In this brilliant and iconoclastic book, Kevin M. Kruse shows how an unholy alliance of greedy businessmen, venal clergy, and conservative politicians exploited American spirituality for partisan gain. Kruse's research is extraordinary, his prose vivid, his argument profound. One Nation Under God is essential reading for anyone interested in understanding contemporary culture in the United States."

Lizabeth Cohen, author of Making a New Deal: Industrial Workers in America, 1919-1939
"Prepare yourself for a startling and important discovery: 'Christian America' is not a legacy of the nation's founders or a construct of the Cold War Era. Rather, as Kevin Kruse so powerfully shows, it was the deliberate invention of conservative corporate leaders who allied with like-minded clergymen in the 1930s to fight the antichrist they most feared: Franklin Roosevelt's New Deal. Kruse convincingly argues that the rise of the religious right over the next decades grew out of these anti-liberal politics, not the other way around. 'Church and state' in America has rarely had a better historian than Kruse."
Coverage from NPR