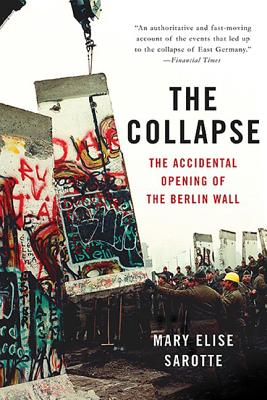 The Collapse (Paperback)
The Accidental Opening of the Berlin Wall
Basic Books, 9780465049905, 320pp.
Publication Date: September 29, 2015
* Individual store prices may vary.
Description
"An authoritative and fast-moving account of the events that led up to the Wall's demise." --Financial Times
On November 9, 1989, massive crowds surged toward the Berlin Wall, drawn by an announcement that caught the world by surprise: East Germans could now move freely to the West. The Wall-the infamous symbol of a divided Cold War Europe--seemed to be falling. But the opening of the gates was not planned by the East German ruling regime--nor was it the result of a bargain between either President Ronald Reagan or President George H.W. Bush and Soviet leader Mikhail Gorbachev. It was an accident. In The Collapse, prize-winning historian Mary Elise Sarotte reveals how a perfect storm of decisions made by daring underground revolutionaries, disgruntled Stasi officers, and dictatorial party bosses sparked an unexpected series of events culminating in the chaotic fall of the Wall. With a novelist's eye for character and detail, she brings to vivid life a story that sweeps across Budapest, Prague, and Leipzig and on to the armed checkpoints in Berlin. The Collapse offers the definitive account of the night that brought down the Berlin Wall
About the Author
Mary E. Sarotte is Dean's Professor of History at the University of Southern California. A former White House Fellow, Humboldt Scholar, and journalist, she is the author of the prize-winning 1989: The Struggle to Create Post-Cold War Europe, a Financial Times book of the year.
Praise For The Collapse: The Accidental Opening of the Berlin Wall…
"This is easily the
best book on the fall of the Berlin Wall."—Fareed Zakaria, CNN GPS Book of the Week

"Sarotte is a superb
historian. She's ferociously intelligent, but what really separates her from
her colleagues is her acute sensitivity to human drama."—Washington Post

"A blow-by-blow account of the birth of modern Germany on November 9th
1989, when, at an otherwise dull press conference in East Berlin, a government
spokesman said that a new law permitting East Germans more freedom to travel
would go into effect immediately. It changed Europe forever."—Economist Best Books of 2014

"This is history writing at its very best, full of drama and pathos, yet
immaculately researched and elegantly written."—BBC History Magazine 2014 Books of the Year

"The Collapse challenges our narrative of the Soviet Union's
collapse, 25 years after the Wall's fall. Sarotte deftly balances individual
human agency and contingency with larger political forces to show that the
Berlin Wall coming down was neither inevitable nor the result of global power
shifts alone."—Zócalo Public Square 10 Best Books of 2014

"Sarotte has produced a skillful, scrupulously documented, nuanced
reconstruction of how a series of mistakes by East German leaders and
officials...turned what was meant to be a carefully managed process of
controlled opening...into the world's most celebrated festival of popular
liberation."—Guardian (UK)

"A fast-paced, fascinating account of the final weeks, days and hours of
the wall."—Telegraph (UK)

"Sarotte's lively and engaging book scrupulously details the events of
November 9, 1989, when the world watched in shock as the Berlin Wall came
down."—Foreign Affairs

"[A]n authoritative and fast-moving account of the events that led up to
the collapse of East Germany."—Financial Times, Best Books of 2014: History

"Brief, intense, and gripping.... Sarotte's effort is magnificent....
This is history at its best."—Winnipeg Free Press

"The book that will haunt Vladimir Putin as long as he's in power."—Washington Post's Post Everything Blog


"Sarotte's wonderfully written book--backed up with reams of research
and interviews--explains the factors that led to one of the most important
moments in the twentieth century."—H-Diplo

"An inspiring and often thrilling account."—Booklist, starred review

"This gripping, important account of a long-misinterpreted event is one
of the most surprising books about the Cold War."—Publishers Weekly

"A rigorous sifting of evidence surrounding the final toppling of the
sclerotic East German state. With extensive use of Stasi files, Sarotte finds
that accident, rather than planning, caused the collapse of the Berlin Wall....
[T]his account amply conveys the universal amazement and excitement of the
time."—Kirkus

"The Collapse is a riveting and important account of the
political chaos in East Germany that led to the fall of the Berlin Wall. Mary
Elise Sarotte is a distinguished historian with a playwright's eye who gives us
fresh insights and telling anecdotes about one of the most important nights of
the late twentieth century."—Tom Brokaw

"Sarotte runs a fine-tooth comb through the archives and gathers an impressive range of stories from the ordinary people at the heart of these extraordinary events. She is keen to dispel the kind of convenient 'hindsight bias' which claims that the peaceful fall of the Wall was inevitable or engineered by bigger forces than human beings who wanted a different life."—Wall Street Journal

"The most definitive account to date of the events that led to the demise of the German Democratic Republic, the reunification of Germany, and the end of the Cold War."—Pittsburgh Post-Gazette