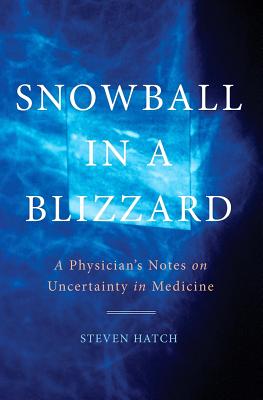 Snowball in a Blizzard
A Physician's Notes on Uncertainty in Medicine
Hardcover

* Individual store prices may vary.
Description
There's a running joke among radiologists: finding a tumor in a mammogram is akin to finding a snowball in a blizzard. A bit of medical gallows humor, this simile illustrates the difficulties of finding signals (the snowball) against a background of noise (the blizzard). Doctors are faced with similar difficulties every day when sifting through piles of data from blood tests to X-rays to endless lists of patient symptoms.

Diagnoses are often just educated guesses, and prognoses less certain still. There is a significant amount of uncertainty in the daily practice of medicine, resulting in confusion and potentially deadly complications. Dr. Steven Hatch argues that instead of ignoring this uncertainty, we should embrace it. By digging deeply into a number of rancorous controversies, from breast cancer screening to blood pressure management, Hatch shows us how medicine can fail-sometimes spectacularly-when patients and doctors alike place too much faith in modern medical technology. The key to good health might lie in the ability to recognize the hype created by so many medical reports, sense when to push a physician for more testing, or resist a physician's enthusiasm when unnecessary tests or treatments are being offered.

Both humbling and empowering, Snowball in a Blizzard lays bare the inescapable murkiness that permeates the theory and practice of modern medicine. Essential reading for physicians and patients alike, this book shows how, by recognizing rather than denying that uncertainty, we can all make better health decisions.
Praise For Snowball in a Blizzard: A Physician's Notes on Uncertainty in Medicine…
"Uncertainty lies at the heart of modern medicine in ways that most physicians--not to mention their patients--often fail to recognize. Fundamental imperfections in our understanding of health and disease limit doctors' ability to combat illness. Hatch, an assistant professor of medicine at the University of Massachusetts Medical School, argues that physicians who ignore this uncertainty often overtreat their patients, resulting in sometimes harmful, even fatal consequences. By the same token, far too many patients assume that more medical care is always better than less, thereby seeking or consenting to toxic treatments that trigger needless suffering. Hatch provides examples from such fields as breast cancer, cardiology and infectious disease. He also offers straightforward rules of thumb to help readers navigate medical advice."—Scientific American

"Informative...Snowball in a Blizzard adds an important perspective...[The book] rightly sounds the alarm: Better communication between doctors and patients is essential to improve medical decision making."—Wall Street Journal

"A penetrating examination of uncertainty in diagnoses and treatment."—Nature

"Snowball in a Blizzard is Hatch's first book, but the clarity and wit of his discussions rank with that of the best science writers."—Shelf Awareness

"This intriguing perspective on the obscurity of medicine...is highly recommended for health-care professionals, health-conscious patients, and well-informed consumer health readers."—Library Journal, starred review

"A carefully argued, unsettling, and important work."—Publishers Weekly

"In writing, Hatch strives to find 'that sweet spot where readability and scholarliness overlap'... he succeeds, telling stories that clarify the points he's making, and he even includes a highly personal anecdote that shows him struggling to deal with doctors who were sure they knew the right treatment for his elderly, hospitalized father... Hatch ably reveals the shortcomings of medicine."—Kirkus Reviews

"I can say with certainty that Steven Hatch's Snowball astutely deconstructs the uncertainty in the practice of medicine--from diagnosis to treatment to media coverage--as well as this important topic has ever been tackled."—Eric Topol, author of The Patient Will See You Now

"What could be more intuitive: that physicians should be humble, admitting the uncertainty of their medical sciences and treating their patients like equals. Would that it were. Although who knows--if enough doctors and patients read Steve Hatch's masterfully-argued Snowball--maybe someday it will be."—Larry Tye, Director of the Boston-based Health Coverage Fellowship and author of New York Times bestseller Satchel

"Hatch's Snowball in a Blizzard is like Carl Sagan's famous 'baloney detection kit' for medical scientific research. How can we figure out which 'discoveries' to trust or to take with a grain of salt? First step: Read this book."—Katrina Firlik, MD, Author of Another Day in the Frontal Lobe: A Brain Surgeon Exposes Life on the Inside
Basic Books, 9780465050642, 312pp.
Publication Date: February 23, 2016
About the Author
Steven Hatch is an assistant professor of medicine at the University of Massachusetts Medical School, working in the Division of Infectious Disease and Immunology. He lives in Newton, Massachusetts.
or
Not Currently Available for Direct Purchase