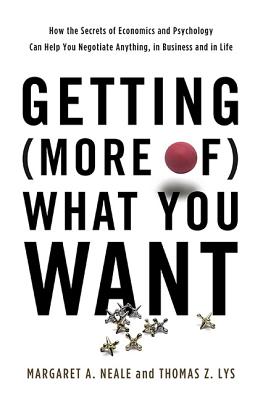 Getting (More of) What You Want
How the Secrets of Economics and Psychology Can Help You Negotiate Anything, in Business and in Life
Hardcover

* Individual store prices may vary.
Other Editions of This Title:
Compact Disc (8/1/2015)
MP3 CD (8/1/2015)
Compact Disc (8/1/2015)
Description
Two top business professors offer up the only negotiation book you'll ever need

Do you know what you want? How can you make sure you get it? Or rather, how can you convince others to give it to you? Almost every interaction involves negotiation, yet we often miss the cues that would allow us to make the most of these exchanges. In Getting (More of) What You Want, Margaret Neale and Thomas Lys draw on the latest advances in psychology and behavioral economics to provide new strategies for negotiation that take into account people's irrational biases as well as their rational behaviors. Whether you're shopping for a car, lobbying for a raise, or simply haggling over who takes out the trash, Getting (More of) What You Want shows how negotiations regularly leave significant value on the table-and how you can claim it.
Praise For Getting (More of) What You Want: How the Secrets of Economics and Psychology Can Help You Negotiate Anything, in Business and in Life…
"This well-crafted book, which merges ideas and insights from the study of economics and psychology, is about how to negotiate successfully and how to maximise the value that you get from each negotiation."
—Irish Times

"Enormously important...Will serve negotiators of all sorts very well."
—Robert B. Cialdini, author of The Psychology of Influence

"A valuable guide to a complicated subject."—Success Magazine

"Getting (More Of) What You Want offers a concise and approachable deep dive into the essential truths of effective negotiating. Building off decades of behavioral research in psychology and economics, these two powerhouse professors de-bunk many common myths and lay out a disciplined approach to mastering the strategy and practice of negotiation."
—Sally Blount, Dean, Kellogg School of Management, Northwestern University

"Getting (More Of) What You Want is the best book I've ever read on negotiation. Margaret Neale and Thomas Lys' masterpiece is packed with actionable, often surprising, and always evidence-based advice on everything from deciding whether to negotiate at all, to figuring out whether you are getting a good deal (or a bad one), to when and how to end your negotiation."—Robert Sutton, Stanford Professor and co-author of Scaling Up Excellence: Getting to More Without Settling for Less
Basic Books, 9780465050727, 288pp.
Publication Date: July 14, 2015
About the Author
Margaret A. Neale is an Adams Distinguished Professor of Management at the Graduate School of Business at Stanford University, where her research focuses primarily on negotiation and team performance. In particular, she studies cognitive and social processes in terms of effective negotiating behavior and explores the psychology behind team communication. She is the author of over seventy articles on the topics of bargaining and negotiation and is the coauthor of three books.

Thomas Z. Lys is Eric L. Kohler Chair in Accounting at the Kellogg School of Management at Northwestern University. His research investigates the stock price consequences that result from alternate financial reporting standards, changes in capital structure, changes in the money supply, and corporate disclosures, and his work has been published in prominent academic journals. He is an editor of the Journal of Accounting and Economics and has served as a consultant for General Electric and IBM, among other companies.