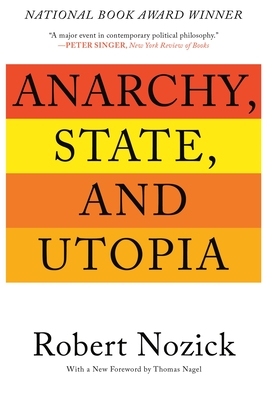 Anarchy, State, and Utopia
Paperback

* Individual store prices may vary.
Other Editions of This Title:
Digital Audiobook (10/1/2018)
Digital Audiobook (6/30/2016)
MP3 CD (8/29/2017)
Compact Disc (8/29/2017)
MP3 CD (7/1/2016)
Compact Disc (7/1/2016)
Description
The foundational text of libertarian thought, named one of the 100 Most Influential Books since World War II (Times Literary Supplement)

First published in response to John Rawls' A Theory of Justice, Robert Nozick's Anarchy, State, and Utopia has since become one of the defining texts in classic libertarian thought. Challenging and ultimately rejecting liberal, socialist, and conservative agendas, Nozick boldly asserts that the rights of individuals are violated as a state's responsibilities increase—and the only way to avoid these violations rests in the creation of a minimalist state limited to protection against force, fraud, theft, and the enforcement of contracts.

Winner of the 1975 National Book Award, Anarchy, State and Utopia remains one of the most philosophically rich defenses of economic liberalism to date. With a new foreword by Thomas Nagel, this revised edition introduces Nozick and his work to a new generation of readers.
Praise For Anarchy, State, and Utopia…
"A
major event in contemporary political philosophy...[Nozick] is always
stimulating; an open-minded study of what he has to say could be a healthy
tonic for romantic leftists."—
Peter Singer
,
New York Review of Books
"[Nozick's] critique of America's social welfare system...continues to define the debate between conservatives and liberals."—
Christopher Lehmann-Haupt
,
New York Times
"[S]imply and elegantly written, with charm and wit...brilliantly reasoned and contrary."
—
Washington Post
"No
contemporary philosopher possesses a more imaginative mind, broader interests,
or greater dialectical abilities than Robert Nozick."—
Harper's
"Complex,
sophisticated and ingenious."—
The Economist
"[Nozick's] powers of argument are profound, and his insights are at
times staggering in their brilliance."—
New Republic
"[Nozick is] one of the 20th century's greatest political theorists."—
The Guardian
"[A] powerful critique of the Left-liberal moral philosophy that underpinned the welfare state...a kind of libertarian manifesto."—
Telegraph (UK)
"This book is the best piece of sustained analytical argument in political philosophy to have appeared for a very long time."—
Mind
"[Nozick's] faculties of reasoning and imagination are rare; his learning is enormous and interconnected...His ability to surround a subject, to anticipate objections, to see through weakness and pretense, to extract all the implications of a contention, to ask a huge number of relevant questions about a seemingly settled matter, to enlarge into full significance what has only been sketched by others, is amazing."—
George Kateb
"A brilliant and important book, bound to contribute notably both to theory and, in time, to the good of society."—
W. V. Quine, Harvard University
Basic Books, 9780465051007, 400pp.
Publication Date: November 12, 2013
About the Author
Robert Nozick (1938-2002) was the Arthur Kingsley Porter Professor of Philosophy at Harvard University. The author of numerous books including The Examined Life and Philosophical Explanations, Nozick was the recipient of the National Book Award for Anarchy, State, and Utopia.