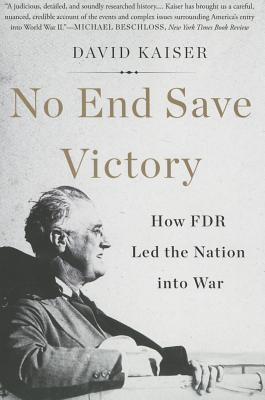 No End Save Victory
How FDR Led the Nation into War
Paperback

* Individual store prices may vary.
Other Editions of This Title:
Hardcover (4/8/2014)
MP3 CD (12/29/2015)
Description
While Franklin Delano Roosevelt's first hundred days may be the most celebrated period of his presidency, the months before the attack on Pearl Harbor proved the most critical. Beginning as early as 1939 when Germany first attacked Poland, Roosevelt skillfully navigated a host of challenges -- a reluctant population, an unprepared military, and disagreements within his cabinet -- to prepare the country for its inevitable confrontation with the Axis.

In No End Save Victory, esteemed historian David Kaiser draws on extensive archival research to reveal the careful preparations that enabled the United States to win World War II. Alarmed by Germany and Japan's aggressive militarism, Roosevelt understood that the United States would almost certainly be drawn into the conflict raging in Europe and Asia. However, the American populace, still traumatized by memories of the First World War, was reluctant to intervene in European and Asian affairs. Even more serious was the deplorable state of the American military. In September of 1940, Roosevelt's military advisors told him that the US would not have the arms, ammunition, or men necessary to undertake any major military operation overseas -- let alone win such a fight -- until April of 1942. Aided by his closest military and civilian collaborators, Roosevelt pushed a series of military expansions through Congress that nearly doubled the size of the US Navy and Army, and increased production of the arms, tanks, bombers, and warships that would allow America to prevail in the coming fight.

Highlighting Roosevelt's deft management of the strong personalities within his cabinet and his able navigation of the shifting tides of war, No End Save Victory is the definitive account of America's preparations for and entry into World War II. As Kaiser shows, it was Roosevelt's masterful leadership and prescience that prepared the reluctant nation to fight -- and gave it the tools to win.
Praise For No End Save Victory: How FDR Led the Nation into War…
Kirkus
"Kaiser's research is both comprehensive and illuminating.... An admiring, richly textured portrait of a leader confronting the unthinkable."

Williamson Murray, author of A War To Be Won: Fighting the Second World War
"David Kaiser has written an outstanding book on Franklin Roosevelt's strategic course in the dark days, from the late 1930s to America's entrance into the Second World War. Among its many strong points is a revealing and persuasive reconsideration of Roosevelt's strategic thinking during this period. Above all Kaiser's portrait underlines that without the president's wisdom and political sagacity, the Germans might well have won the war. This is a book that anyone with an interest in that terrible conflict must read."

Michael Beschloss, New York Times Book Review
"[A] judicious, detailed and soundly researched history.... Kaiser has brought us a careful, nuanced, credible account of the events and complex issues surrounding America's entry into World War II, which, however historical fashions change, is likely to wear well over the years."

Wall Street Journal
"Mr. Kaiser…offers a tightly focused examination of Roosevelt's foreign policy from the defeat of France in May 1940 to the Japanese attack on Pearl Harbor in December 1941.... Most will value Mr. Kaiser's clearly written narrative, which focuses on the improvisational planning of the president and the men around him."

Washington Post
"Others have written about this period, but few with his precision and insight.... His thoroughly researched and well-informed narrative of what happened on the road to war makes the book fully worth the cover price."

Battles and Book Reviews
"An interesting and compelling account of the events in America during the 18 months prior to American entry into WWII.... I highly recommend this book to anybody interested in World War II, but especially to people who think they are familiar with America's role in that war. An outstanding book."
Basic Books, 9780465052981, 416pp.
Publication Date: April 28, 2015
About the Author
David Kaiser has taught history at Harvard, Carnegie Mellon, the Naval War College, and Williams College. The author of seven books, including The Road to Dallas: The Assassination of John F. Kennedy, Kaiser lives in Watertown, Massachusetts.
or
Not Currently Available for Direct Purchase