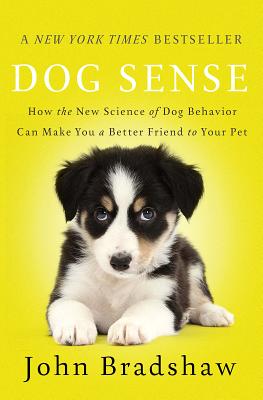 Dog Sense (Paperback)
How the New Science of Dog Behavior Can Make You A Better Friend to Your Pet
Basic Books, 9780465053742, 352pp.
Publication Date: September 9, 2014
* Individual store prices may vary.
Description
Dogs have been mankind's faithful companions for tens of thousands of years, yet today they are regularly treated as either pack-following wolves or furry humans. The truth is, dogs are neither--and our misunderstanding has put them in serious crisis. What dogs really need is a spokesperson, someone who will assert their specific needs. Renowned anthrozoologist Dr. John Bradshaw has made a career of studying human-animal interactions, and in Dog Sense he uses the latest scientific research to show how humans can live in harmony with--not just dominion over-- their four-legged friends. From explaining why positive reinforcement is a more effective (and less damaging) way to control dogs' behavior than punishment to demonstrating the importance of weighing a dog's unique personality against stereotypes about its breed, Bradshaw offers extraordinary insight into the question of how we really ought to treat our dogs.


About the Author
John Bradshaw is the Waltham Director of the Anthrozoology Institute at the University of Bristol and founder of the Anthrozoology Institute at the University of Southampton. He lives in Southampton, England.
Praise For Dog Sense: How the New Science of Dog Behavior Can Make You A Better Friend to Your Pet…
"From wolf to worker, the book tracks the evolution of the canine to help owners better understand their dog's behavior. Bradshaw also reexamines our modern day dog relationship and encourages owners to honor their pets for the unique animals they are."—
Dog Fancy
"Debunking the advice of many celebrity trainers, animal behavior expert John Bradshaw urges understanding, not dominance, as the key to human-canine relations."—
People
"A lovely and clear-headed book on all things dog--emotion, mind, and breed. John Bradshaw's authority and experience are matched by the thoughtfulness and humanity of his writing. Read this before you bring a dog into your life."
—
Alexandra Horowitz, author of Inside of a Dog
"Every so often we are reintroduced to an old friend, and we may see them in a new light, reinvigorating a long standing relationship. John Bradshaw reintroduces us to mankind's oldest friend, the dog. He compiles and explains new information on the origin of dogs, their relationship with ancestral wolves and why we need to base our relationship with dogs on partnership and cooperation, not outmoded theories about dominance. Dogs and dog lovers alike will benefit from Bradshaw's insight."—
Stephen Zawistowski, PhD, CAAB, ASPCA Science Advisor
"[A] fascinating book...in which the author provides a compendium of research (both his own and others') into dogs' origins and behavior. More specifically, he details their evolution from a wolf-like ancestor into proto-dogs and then the first domesticated species; he also investigates how this very long-term relationship has affected both canines and humans. He goes on to clearly explain how today's dogs differ behaviorally and culturally from wolves, and why the dominance/pack paradigm put forth by many trainers (including Cesar Milan) is not only the wrong way to understand dogs but has also done them a great disservice. It makes for engrossing and thought-provoking reading."—
Claudia Kawczynska, The Bark
"In his densely illuminating new book, Dog Sense, John Bradshaw explains how our understanding has been skewed by deeply flawed research, and exploited by a sensationalized media.... Bradshaw...articulates a revolutionary change in thinking in
Dog Sense
that should liberate both dog and owner from what had so often been portrayed as an adversarial relationship."—
Salon.com
"Essential reading for anyone who wants to understand the complicated psychology behind the growl, the rising hackles and the wagging tail."—
The Telegraph (London)
"In an overcrowded field, one may feel fully confident when reading biologist John Bradshaw's thoughts on [man's best friend].... Bradshaw makes deft work of summarizing important and novel insights on dog evolution, along the way pointing out the difficulties we face in reaching full conclusions."
—
Times Higher Education Supplement
"
Dog Sense
is a fantastically written book about why dogs are progressively becoming less healthy and what we can do about it.... This is a wonderful book to read for us dog-lovers who want to understand where man's best friend came from and comprehend 'the world from a dog's perspective.'"—
The American Dog Magazine
"[A] passionate book...nothing less than a manifesto for a new understanding of our canine friends.... His account of the evolution of dogs is fascinating."—
The Guardian (London)
"Every dog lover, dog owner or prospective dog buyer should read this book. It will change how you feel about dogs and, likely enough, how you treat them, too.... This book sparkles with explanations of canine behavior."—
Sunday Times (London)
"This is a wonderfully informative, quietly passionate book that will benefit every dog whose owner reads it."—
The Economist