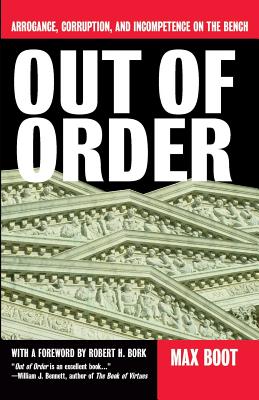 Out Of Order
Arrogance, Corruption, And Incompetence On The Bench
Paperback

* Individual store prices may vary.
Description
Hear about the judge who got busted for selling crack? What about the judge who released from jail a felon who then promptly killed a rookie cop? Or the one who ordered a prison to supply its inmates with hot pots?In Out of Order: Arrogance, Corruption, and Incompetence on the Bench, investigative reporter Max Boot documents dozens of stories like these as he blows the whistle on the least publicized, the most destructive, branch of the government—the compelling statistics to support his belief that judges have greatly damaged both the criminal and civil justice systems.Boot criticizes well-known judges like Lance Ito, who presided over the O.J. Simpson follies, and Harold Baer, the New York judge who initially decided to exclude from evidence eighty pounds of drugs because he found nothing "unusual" about a courier fleeing from the cops. He reveals judges who have taken advantage of their office not only for personal gain, but also to gain greater political power.The "juristocracy," as Boot calls it, has taken over the running of schools, prisons, and other institutions, with disastrous results: forced busing, which has led to white flight from inner-city schools; higher taxes, as judges have ordered more government spending, regardless of results; and greater social divisions, because judges have taken controversial issues like abortion out of the political arena. Rundowns of case after case reveal judges who have routinely overturned popular initiatives without legal right to do so, implemented controversial policies with no basis in law, and put millions of dollars into the pockets of undeserving plaintiffs.Following in the footsteps of the bestselling Death of Common Sense and Slouching Towards Gomorrah, Out of Order is a tightly reported, highly opinionated expose that should set off a national debate about the woeful state of our legal system. It also offers hope, by providing ways to improve the performance of the judiciary and reclaim its original role as servant of the people.
Basic Books, 9780465053759, 272pp.
Publication Date: May 3, 1999
About the Author
Max Boot is a senior fellow in National Security Studies at the Council on Foreign Relations. His writing has appeared in many publications, and he has twice been a finalist for the Gerald Loeb Award. His previous book, Out of Order: Arrogance, Corruption, and Incompetence on the Bench, was published by Basic Books in 1998. He lives with his wife and three children in Westchester County, New York.