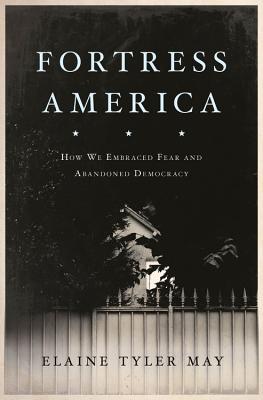 Fortress America
How We Embraced Fear and Abandoned Democracy
Hardcover

* Individual store prices may vary.
Other Editions of This Title:
Digital Audiobook (12/11/2017)
Paperback (3/10/2020)
Description
An award-winning historian argues that America's obsession with security imperils our democracy in this "compelling" portrait of cultural anxiety (Mary L. Dudziak, author of War Time).

For the last sixty years, fear has seeped into every area of American life: Americans own more guns than citizens of any other country, sequester themselves in gated communities, and retreat from public spaces. And yet, crime rates have plummeted, making life in America safer than ever. Why, then, are Americans so afraid-and where does this fear lead to?

In this remarkable work of social history, Elaine Tyler May demonstrates how our obsession with security has made citizens fear each other and distrust the government, making America less safe and less democratic. Fortress America charts the rise of a muscular national culture, undercutting the common good. Instead of a thriving democracy of engaged citizens, we have become a paranoid, bunkered, militarized, and divided vigilante nation.


Praise For Fortress America: How We Embraced Fear and Abandoned Democracy…
"May...traces how a growing preoccupation with vigilance and safety shaped American culture and prompted millions of people to invest in 'security measures that did not make them any safe.'"
—
New Republic
"If you feel shockingly high anxiety these days, and wonder why it got this way, Elaine Tyler May's
Fortress America: How We Embraced Fear and Abandoned Democracy
offers some answer...[May] puts much of the blame on an axis of anxiety including politicians, big media and entertainment, and an array of profiteers ranging from gun makers to security firms."—
Pittsburgh Post-Gazette
"Elaine Tyler May...explores how the United States got to this point of paranoia and how Americans made themselves prisoners in a world where security precaution is not just an industry but a lifestyle.... The irony that May captures is that Americans have more to fear now than they ever have: they are just fretting over the wrong things."
—
Australian Book Review
"May... argues that the pervasive dread of the Cold War never really ended but metastasized into the American consciousness, particularly fear of cities and racial conflict."
—
Public Books
"This
thoroughly researched and thoughtfully written social history is recommended to
all who seek to understand our divided society."
—
Library Journal
"A must-read for anyone seeking to
understand the anxieties that occupy American politics."
—
Publishers Weekly
"In making
a solid case for our country's overinvestment in personal and national
security, May asks a germane question: are we focusing on the right threats?"
—
Kirkus Reviews
American Scholar
"[May's] style is brisk and catholic, and no cultural artifact is too minute to catch her eye. The effect is like watching one gem of cultural trivia after another shaken loose from an ephemeral recent past."—
-
"Challenging and provocative,
Fortress America
will stir stimulating debate in the classroom and in the living room about the state of America in the post-World War II world."
—
William Chafe, Alice Mary Baldwin Professor, emeritus, Duke University; former president, Organization of American Historians
"America
founded itself on the principles of life, liberty, and the pursuit of
happiness, but for much of the last century, it has been increasingly seized by
fear, suspicion, and anxiety. Elaine Tyler May has provided a lucid,
accessible, and sweeping account of this national nervous breakdown. With acute
intelligence and supple prose, she separates distortion from reality, fever
dream from waking truth."
—
SamuelFreedman, professor, Columbia University Graduate School of Journalism
"If you think the favored aim of Americans today is 'freedom,' this fast-paced and provocative book turns the tables on that assumption.
Fortress America
contends that security is the watchword of the past 50 years--with a misplaced and too often punitive exaggeration that has created more harms than benefit to ourselves and to democracy. Elaine Tyler May's emphasis here deserves close reading."—
NancyF. Cott, Trumbull Professor of American History, Harvard University
"Few historians have probed the hidden undercurrents of the Cold War as perceptively and brilliantly as Elaine Tyler May. In
Homeward Bound,
she explained how containment abroad seeped into America's homes, and now, in her equally penetrating
Fortress America
, she reveals the fears and insecurities in those homes that emerged to elect our 45th President. A major contribution and a must-read to understand the origins of the Age of Trump."—
MartinJ. Sherwin, University Professor at George Mason University, Pulitzer Prize(with co-author Kai Bird) winner for American Prometheus
"In this brisk yet sobering book, Elaine Tyler May shows the way a culture of fear, nurtured during the Cold War, led Americans to fear each other. Citizens armed themselves and favored policies that fueled mass incarceration and scapegoating immigrants. May's masterful synthesis of cultural history makes
Fortress America
a compelling read."—
Mary L. Dudziak, author of War Time
Basic Books, 9780465055920, 256pp.
Publication Date: December 12, 2017
About the Author
Elaine Tyler May is the Regents Professor of American Studies and History at the University of Minnesota. The award-winning author of five books and the former president of the American Studies Association, May lives in Minneapolis, Minnesota.
Coverage from NPR
or
Not Currently Available for Direct Purchase