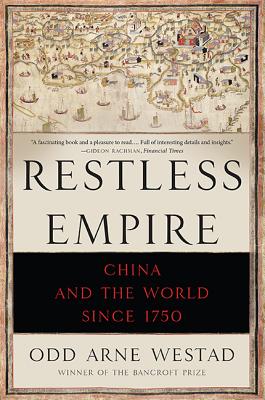 Restless Empire
China and the World Since 1750
Paperback

* Individual store prices may vary.
Description
As the twenty-first century dawns, China stands at a crossroads. The largest and most populous country on earth and currently the world's second biggest economy, China has recently reclaimed its historic place at the center of global affairs after decades of internal chaos and disastrous foreign relations. But even as China tentatively reengages with the outside world, the contradictions of its development risks pushing it back into an era of insularity and instability -- a regression that, as China's recent history shows, would have serious implications for all other nations.

In Restless Empire, award-winning historian Odd Arne Westad traces China's complex foreign affairs over the past 250 years, identifying the forces that will determine the country's path in the decades to come. Since the height of the Qing Empire in the eighteenth century, China's interactions -- and confrontations -- with foreign powers have caused its worldview to fluctuate wildly between extremes of dominance and subjugation, emulation and defiance. From the invasion of Burma in the 1760s to the Boxer Rebellion in the early 20th century to the 2001 standoff over a downed U.S. spy plane, many of these encounters have left Chinese with a lingering sense of humiliation and resentment, and inflamed their notions of justice, hierarchy, and Chinese centrality in world affairs. Recently, China's rising influence on the world stage has shown what the country stands to gain from international cooperation and openness. But as Westad shows, the nation's success will ultimately hinge on its ability to engage with potential international partners while simultaneously safeguarding its own strength and stability.

An in-depth study by one of our most respected authorities on international relations and contemporary East Asian history, Restless Empire is essential reading for anyone wishing to understand the recent past and probable future of this dynamic and complex nation.
Praise For Restless Empire: China and the World Since 1750…
"A rich history of the
past 250 years of Chinese foreign policy."—Ian Johnson, NewYork Review of Books

"A fine example...of
the way history can begin to make sense of [China] for an outsider."—Guardian (UK), Best History Books of 2012

"A wonderful book....
Westad upends, but ever so politely, a slew of misconceptions about China that
have been concocted by his academic predecessors both in the West and in Asia."—John Pomfret, WashingtonPost

"A readable introduction to a vast topic, Restless Empire traces the development of modern China and provides context for understanding the country's future place in the world."
—New Yorker, Page-Turner blog

"Westad's clear account is extraordinarily useful, both for the context
in which he puts it and for the use he makes of recent scholarship."—Commonweal

"To understand why the map that appears in the Chinese passport has angered diplomats outside China, Odd Arne Westad's perceptive accounts of the Sino-Indian War of 1962 and of more recent squabbles over islands in the South China Sea are essential reading"
—Times Literary Supplement

"[A] lucid and engaging book.... This fine survey is the best guide to appear yet on the knotty entanglements of China's pasts and futures."
—Literary Review (UK)

"China's relationship with the outside world since 1750 has been varied and complex. Westad explains all."
—Denver Post

"Westad's Restless Empire is thorough, fast-moving, and consistently clear. It gives an excellent introduction to the vagaries of China's foreign relations over the last 250 years."
—Jonathan Spence, author of The Search for Modern China

"Written by one of the most distinguished scholars on China, this book
brings clarity and insight into complex historical issues."—Jung Chang, author of Wild Swans and co-author of Mao: TheUnknown Story

"An essential guide to modern China's often violent encounter with the rest of the world."
—Frank Dikotter, author of Mao's Great Famine
Basic Books, 9780465056675, 544pp.
Publication Date: April 28, 2015
About the Author
Odd Arne Westad is the S. T. Lee professor of US-Asia relations at Harvard University and author and editor of eleven books, including The Global Cold War, recipient of the Bancroft Prize, and Restless Empire, recipient of the Asia Society book award. He lives in Cambridge, Massachusetts.