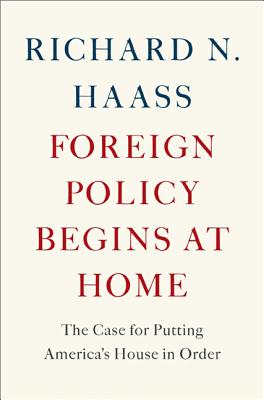 Foreign Policy Begins at Home: The Case for Putting America's House in Order (Hardcover)
The Case for Putting America's House in Order
Basic Books (AZ), 9780465057986, 208pp.
Publication Date: April 30, 2013
* Individual store prices may vary.
or
Not Currently Available for Direct Purchase
Description
Global terrorism. Humanitarian disasters. Environmental catastrophe. In the 21st century, the world seems in constant crisis. In Foreign Policy Begins at Home, Council on Foreign Relations president Richard N. Haass outlines an approach to foreign policy that turns the challenge of this dysfunctional world into an opportunity for renewed American leadership.

Laying out a bold vision for how the US can come to shape world events, rather than being shaped by them, Haass argues that we must sharply limit our engagement in foreign wars and humanitarian interventions. Instead, we must focus on rebuilding our domestic institutions through getting entitlements under control, encouraging free trade, and making room for public-private partnerships.

Only by getting its own house in order can the United States reclaim its role as the primary director of global events, and maintain that role in a world of unprecedented chaos.
About the Author
Richard N. Haass, president of the Council on Foreign Relations since July 2003, was previously director of policy planning for the Department of State, where he was a principal advisor to Colin Powell. From 1989-1993, he was special assistant to President George H. W. Bush and senior director for the Near East and South Asia on the staff of the National Security Council. Haass also served in the Reagan and Carter administrations. The recipient of the State Department's Distinguished Honor Award and the Presidential Citizens Medal, he is the author or editor of twelve other books. Haass lives in New York City.
Advertisement