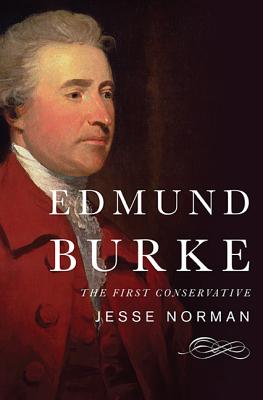 Edmund Burke
The First Conservative
Hardcover

* Individual store prices may vary.
Other Editions of This Title:
Digital Audiobook (11/17/2013)
Paperback (4/28/2015)
MP3 CD (11/18/2013)
Compact Disc (11/18/2013)
MP3 CD (11/18/2013)
Compact Disc (11/18/2013)
Compact Disc (11/18/2013)
Description
Edmund Burke is both the greatest and the most underrated political thinker of the past three hundred years. A brilliant 18th-century Irish philosopher and statesman, Burke was a fierce champion of human rights and the Anglo-American constitutional tradition, and a lifelong campaigner against arbitrary power. Revered by great Americans including Presidents Theodore Roosevelt and Woodrow Wilson, Burke has been almost forgotten in recent years. But as politician and political philosopher Jesse Norman argues in this penetrating biography, we cannot understand modern politics without him.
As Norman reveals, Burke was often ahead of his time, anticipating the abolition of slavery and arguing for free markets, equality for Catholics in Ireland, and responsible government in India, among many other things. He was not always popular in his own lifetime, but his ideas about power, community, and civic virtue have endured long past his death. Indeed, Burke engaged with many of the same issues politicians face today, including the rise of ideological extremism, the loss of social cohesion, the dangers of the corporate state, and the effects of revolution on societies. He offers us now a compelling critique of liberal individualism, and a vision of society based not on a self-interested agreement among individuals, but rather on an enduring covenant between generations.
Burke won admirers in the American colonies for recognizing their fierce spirit of liberty and for speaking out against British oppression, but his greatest triumph was seeing through the utopian aura of the French Revolution. In repudiating that revolution, Burke laid the basis for much of the robust conservative ideology that remains with us to this day: one that is adaptable and forward-thinking, but also mindful of the debt we owe to past generations and our duty to preserve and uphold the institutions we have inherited. He is the first conservative.
A rich, accessible, and provocative biography, "Edmund Burke" describes Burke's life and achievements alongside his momentous legacy, showing how Burke's analytical mind and deep capacity for empathy made him such a vital thinkerboth for his own age, and for ours.

Basic Books (AZ), 9780465058976, 325pp.
Publication Date: May 21, 2013
About the Author
Jesse Norman is widely regarded as one of the rising stars of the British House of Commons. As Member of Parliament for Hereford and South Herefordshire, he was given the prestigious Parliamentarian of the Year award in 2012. Educated at Oxford University (BA) and University College London (MPhil, PhD), he has taught philosophy at University College London, and is the author of several books and political works, including "Compassionate Conservatism." He lives in Hereford and London.
or
Not Currently Available for Direct Purchase