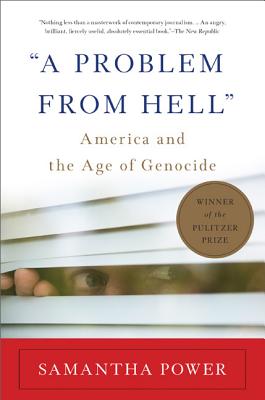 "A Problem from Hell" (Paperback)
America and the Age of Genocide
Basic Books, 9780465061518, 620pp.
Publication Date: December 24, 2013
Description
From the Armenian Genocide to the ethnic cleansings of Kosovo and Darfur, modern history is haunted by acts of brutal violence. Yet American leaders who vow "never again" repeatedly fail to stop genocide. Winner of the Pulitzer Prize and the National Book Critics Circle Award, "A Problem from Hell" draws upon exclusive interviews with Washington's top policymakers, thousands of once classified documents, and accounts of reporting from the killing fields to show how decent Americans inside and outside government looked away from mass murder. Combining spellbinding history and seasoned political analysis, "A Problem from Hell" allows readers to hear directly from American decision-makers and dissenters, as well as from victims of genocide, and reveals just what was known and what might have been done while millions perished.
About the Author
Samantha Power, currently the U.S. ambassador to the United Nations, served from 2009 to 2013 as the Special Assistant to President Barack Obama and Senior Director for Multilateral Affairs and Human Rights at the National Security Council. She was the founding executive director of the Carr Center for Human Rights Policy and the Harvard Kennedy School and is also the author of Chasing the Flame: Sergio Viera de Mello and the Fight to Save the World--the basis for the award-winning HBO documentary, Sergio--and the co-editor of The Unquiet American: Richard Holbrooke in the World. A former Balkan war correspondent and a recipient of the National Magazine Award and the Pulitzer Price, Power lives in New York City.
Advertisement