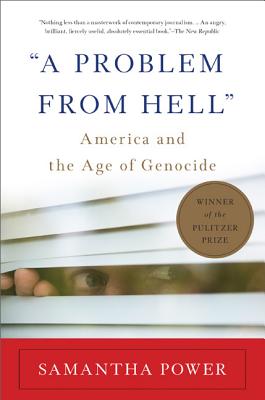 "A Problem from Hell" (Paperback)
America and the Age of Genocide
Basic Books, 9780465061518, 656pp.
Publication Date: December 24, 2013
* Individual store prices may vary.
Description
Former UN Ambassador Samantha Power's Pulitzer Prize-winning analysis of America's repeated failure to stop genocides around the world
In her Pulitzer Prize-winning examination of the last century of American history, Samantha Power asks the haunting question: Why do American leaders who vow "never again" repeatedly fail to stop genocide? Power, a professor at the Harvard Kennedy School and the former US Ambassador to the United Nations, draws upon exclusive interviews with Washington's top policymakers, thousands of declassified documents, and her own reporting from modern killing fields to provide the answer. "A Problem from Hell" shows how decent Americans inside and outside government refused to get involved despite chilling warnings, and tells the stories of the courageous Americans who risked their careers and lives in an effort to get the United States to act. A modern classic, "A Problem from Hell" has forever reshaped debates about American foreign policy.
Winner of the Pulitzer Prize
Winner of the Robert F. Kennedy Book Award
Winner of the National Book Critics Circle Award
Winner of the J. Anthony Lukas Book Prize
Winner of the Anisfield-Wolf Book Award
Winner of the Raphael Lemkin Award
About the Author
Samantha Power, the Anna Lindh Professor of the Practice of Global Leadership and Public Policy at the Harvard Kennedy School, served as the U.S. ambassador to the United Nations from 2013 to 2017 and was previously Special Assistant to President Barack Obama and the Senior Director for Multilateral Affairs and Human Rights at the National Security Council. She was the founding executive director of the Carr Center for Human Rights Policy at the Harvard Kennedy School and is also the author of Chasing the Flame: Sergio Viera de Mello and the Fight to Save the World--the basis for the award-winning HBO documentary, Sergio--and the co-editor of The Unquiet American: Richard Holbrooke in the World. Power is a former Balkan war correspondent and a recipient of the National Magazine Award and the Pulitzer Prize, among numerous other honors.
Praise For "A Problem from Hell": America and the Age of Genocide…
"Magisterial."—New Yorker

"An angry, brilliant, fiercely useful, absolutely essential book."—The New Republic

"Disturbing...engaging and well written...will likely become the standard text on genocide prevention."—Foreign Affairs

"Forceful.... Power tells this long, sorry history with great clarity and vividness."—Washington Post

"Amazingly persuasive."—New York Review of Books

"Bracing.... Power [is] the new conscience of the U.S. foreign-policy establishment."—Time