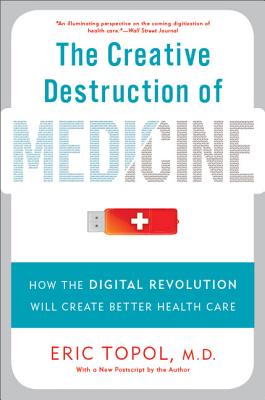 The Creative Destruction of Medicine (Paperback)
How the Digital Revolution Will Create Better Health Care
Basic Books, 9780465061839, 336pp.
Publication Date: August 13, 2013
Other Editions of This Title:
Hardcover (1/31/2012)
MP3 CD (3/19/2012)
Compact Disc (3/19/2012)
Pre-Recorded Audio Player (7/1/2012)
Compact Disc (3/19/2012)
* Individual store prices may vary.
Description
How genomics, big data, and digital technology are revolutionizing every aspect of medicine, from physical exams to drug prescriptions to organ transplants

Mobile technology has transformed our lives, and personal genomics is revolutionizing biology. But despite the availability of technologies that can provide wireless, personalized health care at lower cost, the medical community has resisted change. In The Creative Destruction of Medicine, Eric Topol-one of the nation's top physicians-calls for consumer activism to demand innovation and the democratization of medical care. The Creative Destruction of Medicine is the definitive account of the coming disruption of medicine, written by the field's leading voice.

About the Author
Eric Topol, M.D. is the director of the Scripps Translational Science Institute and co-founder and vice-chairman of the West Wireless Health Institute in La Jolla, California. He is a practicing cardiologist at the Scripps Clinic and a professor of genomics at The Scripps Research Institute. One of the top 10 most cited researchers in medicine, Topol was elected to the Institute of Medicine of the National Academy of Sciences and has led many of the trials that have shaped contemporary treatment for heart disease.
Praise For The Creative Destruction of Medicine: How the Digital Revolution Will Create Better Health Care…
"Dr. Eric Topol is an extraordinary doctor. He's started a leading medical school, identified the first genes to underlie development of heart disease, led major medical centers, and been a pioneer of wireless medicine. But he is also a remarkable communicator-one of the few top-flight scientists in medicine to be able to genuinely connect with the public. He was, for example, the first physician researcher to question the safety of Vioxx-and unlike most who raise safety questions, actually succeed in bringing the concerns to public attention. I have known and admired Dr. Topol for a long time. I recommend him highly."—
Atul Gawande, M.D., author of The Checklist Manifesto
"It may sound like hyperbole, but it's true: Medicine is undergoing its biggest revolution since the invention of the germ theory. As Eric Topol writes, thirty years ago, 'digital medicine' referred to rectal examinations. Dr. Topol is both a leader of and perfect guide to this brave new health world. His book should be prescribed for doctors and patients alike."—
A. J. Jacobs, author of My Life as an Experiment and The Year of Living Biblically
"This is the one book to read for a complete and clear view of our medical future, as enabled by the convergence of digital, mobile, genomic, and life science breakthroughs. Dr. Topol explains how iPhones, cloud computing, gene sequencing, wireless sensors, modernized clinical trials, internet connectivity, advanced diagnostics, targeted therapies and other science will enable the individualization of medicine -- and force overdue radical change in how medicine is delivered, regulated, and reimbursed. This book should be read by patients, doctors, scientists, entrepreneurs, insurers, regulators, digital engineers -- anyone who wants better health, lower costs, and participation in this revolution."—
Brook Byers, Partner, Kleiner Perkins Caufield & Byers
"Eric Topol is that rare physician willing to challenge the orthodoxies of his guild. He recognizes that in the U.S., health care business-as-usual is unsustainable. But he does not despair. He bears witness to the rise of Homo digitus and the promise it holds to upend the inefficiencies and dysfunction so entrenched in clinical medicine. The Creative Destruction of Medicine is a timely tour de force. It is a necessary heresy."
Clayton M. Christensen, Robert and Jane Cizik Professor of Business Administration, Harvard Business School, and author of The Innovator's Dilemma
"Eric Topol gives us an eye-opening look at what's possible in healthcare if people can mobilize to charge the status quo. The Creative Destruction of Medicine is simply remarkable."
—
Misha Angrist, assistant professor, Duke Institute for Genome Sciences & Policy, and author of Here is a Human Being
"Eric Topol outlines the creative destruction of medicine that must be led by informed consumers. Smart patients will push the many stakeholders in health to accelerate change as medicine adapts to a new world of information and technology."—
Mehmet Oz, M.D., professor and Vice-Chair of Surgery, NY Presbyterian/Columbia University
"Eric Topol has been a longtime innovator in healthcare. In
The Creative Destruction of Medicine
, he cites the big waves of innovation that will save healthcare for the future. Real healthcare reform has not yet begun, but it will.
The Creative Destruction of Medicine
lays out the path."—
Jeffrey Immelt, Chairman and CEO of General Electric
"Eric Topol provides an excellent and pragmatic view of the U.S. healthcare system from a patient's perspective. He then offers, through numerous examples, an exciting vision for the future...when technology can be used to dramatically improve the quality of care and reduce cost at the same time.
The Creative Destruction of Medicine
is a highly informative and enjoyable book, which truly triggers the reader's imagination as to what is possible"—
Omar Ishrak, Chairman and CEO of Medtronic
"Eric Topol has written an extraordinarily important book at just the right moment. Drawing upon a unique and impressive array of convergent expertise in medical research, clinical medicine, consumer and health technological advancements, and health policy, Dr. Topol opens the door for an essential discussion of old challenges viewed through an innovative lens. In the context of increasingly unaffordable health care costs, suboptimal quality of care delivery, a tsunami of preventable chronic illness, and new accountabilities for consumer's health choices and behaviors, this book helps all of us to think about solutions in new and exciting ways!"—
Reed Tuckson, M.D., Executive Vice President and Chief of Medical Affairs, UnitedHealth Group
"Health care is poised to be revolutionized by two forces -- technology and consumerism -- and Dr. Eric Topol explains why. One-size-fits-all medicine will soon be overtaken by highly personalized, customized solutions that are enabled by breakthroughs in genomics and mobile devices and propelled by empowered consumers looking to live longer, healthier lives. Fasten your seat belts and get ready for the ride -- and learn what steps you can take to begin to take control of your health."—
Steve Case, co-founder, AOL, and founder of Revolution LLC
"Eric Topol is uniquely positioned to write such a timely and important book. He leads two institutions -- one in genomics and one in wireless health -- that will each play a huge role in transforming medicine in the twenty-first century. From this vantage point, he can see unifying themes that will underlie the coming revolution in population and personal health, and he communicates his vision with vibrant energy. Everyone will want to read this book."—
James Fowler, professor of medical genetics and political science, UC San Diego, and author of Connected
"What happens when the super-convergence of smart phones further combines with million-fold lower-cost genomics and diverse wearable sensors? The riveting answer leads compellingly to a call to activism -- not only for medical care providers, but all patients and everyone looking for the next 'disruptive' economic revolution. This future is closer than most of us would have imagined before seeing it laid out so clearly. A must-read."—
George Church, professor of genetics, Harvard Medical School
"Our sequencing of the human genome eleven years ago was the beginning of the individualized medicine revolution, a revolution that cannot happen without digitized personal phenotype information. Eric Topol provides a path forward using your digitized genome, remote sensing devices and social networking to place the educated at the center of medicine."—
J. Craig Venter, Chairman and President, J. Craig Venter Institute