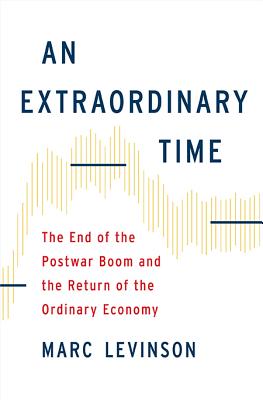 An Extraordinary Time (Hardcover)
The End of the Postwar Boom and the Return of the Ordinary Economy
Basic Books, 9780465061983, 336pp.
Publication Date: November 8, 2016
Other Editions of This Title:
MP3 CD (11/7/2017)
Compact Disc (11/7/2017)
Pre-Recorded Audio Player (11/7/2017)
MP3 CD (11/8/2016)
Compact Disc (11/8/2016)
Compact Disc (11/8/2016)
* Individual store prices may vary.
Description
The decades after World War II were a golden age across much of the world. It was a time of economic miracles, an era when steady jobs were easy to find and families could see their living standards improving year after year. And then, around 1973, the good times vanished. The world economy slumped badly, then settled into the slow, erratic growth that had been the norm before the war. The result was an era of anxiety, uncertainty, and political extremism that we are still grappling with today.

In An Extraordinary Time, acclaimed economic historian Marc Levinson describes how the end of the postwar boom reverberated throughout the global economy, bringing energy shortages, financial crises, soaring unemployment, and a gnawing sense of insecurity. Politicians, suddenly unable to deliver the prosperity of years past, railed haplessly against currency speculators, oil sheikhs, and other forces they could not control. From Sweden to Southern California, citizens grew suspicious of their newly ineffective governments and rebelled against the high taxes needed to support social welfare programs enacted when coffers were flush.

Almost everywhere, the pendulum swung to the right, bringing politicians like Margaret Thatcher and Ronald Reagan to power. But their promise that deregulation, privatization, lower tax rates, and smaller government would restore economic security and robust growth proved unfounded. Although the guiding hand of the state could no longer deliver the steady economic performance the public had come to expect, free-market policies were equally unable to do so. The golden age would not come back again.

A sweeping reappraisal of the last sixty years of world history, An Extraordinary Time forces us to come to terms with how little control we actually have over the economy.

About the Author
Marc Levinson is the former finance and economics editor at the Economist and the author of five books, including The Box: How the Shipping Container Made the World Smaller and the World Economy Bigger. He lives in Washington, DC.
Praise For An Extraordinary Time: The End of the Postwar Boom and the Return of the Ordinary Economy…
"Levinson, an economist and ex-journalist, has the virtues of both-an eye for detail and an understanding of the broader picture."
- Washington Post, Best Economics Books of 2016

"A smoothly written account of the U.S. and the world economy.... Mr.
Levinson is a smart enough author not to be tempted into some breathless
mono-causal account of either the earlier 'boom' or the later slowdown.
He's excellent at description."
-Wall Street Journal

"A provocative book."
-Robert Samuelson, Washington Post

"[Levinson] has a journalist's appreciation for the power of on-the-ground observation."
-Bloomberg Buisnessweek

"A valuable antidote to all passionately held economic ideologie."
-Paul Collier, Times Literary Supplement (UK)


"It is this story of the coming and passing of that long boom-and apparently the inability of politicians to do much about resuscitating it-that Levinson crisply tells."
-National Review


"An Extraordinary Time provides a well-balanced (and surprisingly entertaining) tour of global economic and political history since 1973...Excellent book. Highly recommended."
-Inside Higher Ed


"Levinson has unmatchable understanding of economics and an extraordinary ability to explain intricate economics to laymen."
-Washington Book Review

"Levinson's account of this vexed era is lucid, well-paced, and entwined
with vivid sketches of economists, central bankers, and politicians who
failed to restore the pre-1973 good times. He also succeeds at
translating complex economic issues into understandable terms for lay
readers. Levinson's admirably evenhanded treatment of recent economic
history steers clear of dogmas on both left and right to explore
knottier truths."
-Publishers Weekly, starred review

"[Levinson's]
view is absolutely worth heeding in these days of unprecedented
worldwide financial experimentation.... A cogently argued account that
lays bare the similarities and differences between the world today and
earlier theoretical shortcomings."
-Kirkus Reviews

"I've
heard it said that economic history is a dying art. Well, not in Marc
Levinson's hands. This account of how the extraordinary economic times
from 1948 to 1973 turned into the very ordinary (or worse) times that
followed is comprehensive, artfully presented, and largely persuasive.
That's quite an achievement."
-Alan Blinder, Princeton University, author of After the Music Stopped

"A
provocative account of recent economic history which argues the good
times have gone, and no government-neither left nor right-can bring them
back. A sobering read."
-Eric Rauchway, University of California, Davis, author of The Money Makers

"Marc
Levinson has given us a fascinating and perceptive account of the
economic difficulties of the 1970s and the response of policymakers. As
the United States and other countries struggled with the turbulent end
of the post-World War II boom, seeking to cope with stagflation and
higher unemployment, they often turned politically to the
right-embracing tax cuts and deregulation. How did this process work its
way out? This timely book of an important period is not just
informative, but helps put our current economic difficulties in
perspective."
-Douglas Irwin, Dartmouth College, author of Free Trade Under Fire

"A
lively, well-researched tour of the transformation of the American
economy in the decades after World War II-how it happened and why the
pace didn't last. A great read for those who lived through those years
and those who want to learn about them."
-Alice M. Rivlin, Senior Fellow, Brookings Institution