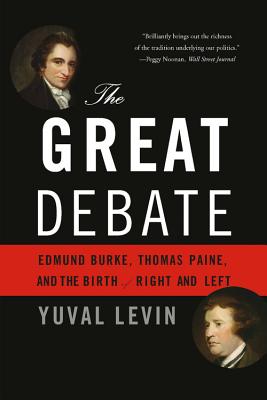 The Great Debate
Edmund Burke, Thomas Paine, and the Birth of Right and Left
Paperback

* Individual store prices may vary.
Other Editions of This Title:
Digital Audiobook (12/21/2020)
Description
An acclaimed portrait of Edmund Burke, Thomas Paine, and the origins of modern conservatism and liberalism

In The Great Debate, Yuval Levin explores the roots of the left/right political divide in America by examining the views of the men who best represented each side at its origin: Edmund Burke and Thomas Paine. Striving to forge a new political path in the tumultuous age of the American and French revolutions, these two ideological titans sparred over moral and philosophical questions about the nature of political life and the best approach to social change: radical and swift, or gradual and incremental. The division they articulated continues to shape our political life today.

Essential reading for anyone seeking to understand the basis of our political order and Washington's acrimonious rifts today, The Great Debate offers a profound examination of what conservatism, progressivism, and the debate between them truly amount to.
Praise For The Great Debate: Edmund Burke, Thomas Paine, and the Birth of Right and Left…
"Yuval Levin, whose sharp thinking was honed at the University of Chicago s Committee on Social Thought...is one of conservatism s most sophisticated and measured explicators."—George F. Will, Washington Post

"[The Great Debate's] architecture is clever and intellectually persuasive.... A thoughtful introduction to this famous paradigmatic opposition."—Washington Post

"In a Burkean manner, Mr. Levin enriches through wisdom rather than prescription. He gives us something more than a manual of past lessons--namely, the historical framework to achieve greater understanding."—Wall Street Journal

"In this lively and probing book, Levin, one of the most influential conservative writers in the United States, looks at the ideas of Edmund Burke and Thomas Paine, towering figures in the late-eighteenth-century transatlantic Enlightenment...The Great Debate won't settle any of the political disputes roiling U.S. politics today, but those who read it carefully will find it easier to understand their opponents--and perhaps even to find some common ground."—Foreign Affairs

"Levin enters into another great debate that riles academia: between historians insisting upon the uniqueness and specificity of events, which defy abstractions and generalizations, and philosophers impatient with the ephemera and contingency of events, which do not rise to the level of truth and certainty. Here too he rises to the occasion, satisfying the scruples of historians and philosophers alike. From a debate raged about an event centuries ago, he deduces truths that illuminate some of our most vexing political and social problems today."—Gertrude Himmelfarb, Weekly Standard

"The Great Debate is a masterful and loving piece of work, the kind of solo performance that commands mute attention and makes even a crinkled cough-drop wrapper sound like an errant clang of the gong. It does more than announce Levin's arrival; it is, in itself, a refutation--this time with an inerrant clang--of the factitious notion that intellectual conservatism is a bygone thing."—Commentary

"[A] wonderful book."—Los Angeles Times

"The definitive intellectual history of an argument so powerful that it echoes to the present day."—National Review Online
Basic Books, 9780465062980, 304pp.
Publication Date: December 2, 2014
About the Author
Yuval Levin is director of social, cultural, and constitutional studies at the American Enterprise Institute and the editor of National Affairs. A former member of the White House domestic policy staff under George W. Bush, he has written for the New York Times, Washington Post, and Wall Street Journal, among many other publications. His previous books include The Fractured Republic and The Great Debate. He lives in Maryland.