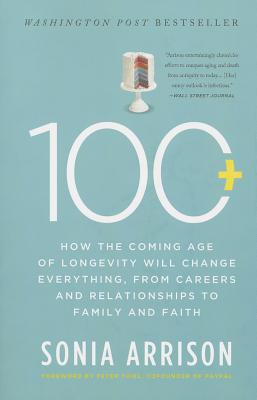 100 Plus
How the Coming Age of Longevity Will Change Everything, From Careers and Relationships to Family and Faith
Paperback

* Individual store prices may vary.
Other Editions of This Title:
Hardcover (8/1/2011)
Description
Humanity is on the cusp of an exciting longevity revolution. The first person to live to 150 years has probably already been born.What will your life look like when you live to be over 100? Will you be healthy? Will your marriage need a sunset clause? How long will you have to work? Will you finish one career at sixty-five only to go back to school to learn a new one? And then, will you be happily working for another sixty years? Maybe you'll be a parent to a newborn and a grandparent at the same time. Will the world become overpopulated? And how will living longer affect your finances, your family life, and your views on religion and the afterlife?In 100 Plus, futurist Sonia Arrison takes us on an eye-opening journey to the future at our doorsteps, where science and technology are beginning to radically change life as we know it. She introduces us to the people transforming our lives: the brilliant scientists and genius inventors and the billionaires who fund their work. The astonishing advances to extend our lives -- and good health -- are almost here. In the very near future fresh organs for transplants will be grown in laboratories, cloned stem cells will bring previously unstoppable diseases to their knees, and living past 100 will be the rule, not the exception.Sonia Arrison brings over a decade of experience researching and writing about cutting-edge advances in science and technology to 100 Plus, painting a vivid picture of a future that only recently seemed like science fiction, but now is very real. 100 Plus is the first book to give readers a comprehensive understanding of how life-extending discoveries will change our social and economic worlds. This illuminating and indispensable text will help us navigate the thrilling journey of life beyond 100 years.
Praise For 100 Plus: How the Coming Age of Longevity Will Change Everything, From Careers and Relationships to Family and Faith…
Singularity Hub
"Easy to read, and easy to understand, 100+ walks you through the incredible achievements in regenerative medicine we've already seen, projects them forward, and discusses the changes in environment, economy, family, and religion that will follow.... Arrison states her case strongly enough to convince almost anyone, and in a style that will be as accessible to your techno-phobic Uncle Walter as it is to your computer loving self."
 
Garry Kasparov
"At a time when companies think only of quarterly results and politicians do not look beyond the next election, Sonia Arrison provides a fascinating look at the very long view. If mankind focuses its energy, there is no limit to our lives—or our lifespans."
 
Aubrey de Grey, Ph.D.; chief science officer, SENS Foundation
"Arrison has crafted an eminently readable and informative survey of the state of play in the crusade against humanity's oldest and greatest foe. By educating readers about both the science and the social context of the quest to postpone age-related ill-health, she has surely hastened the development of such therapies, and thereby saved many thousands of lives."
 

Washington Independent Review of Books
"The final chapter makes … 100 Plus must reading for anyone who wants to have a voice."
 
Singularity Weblog
"The book is very well researched and deals with the most profound implications of life-extension and super-longevity.... Despite its complex topic, advanced scientific matter and hefty goals, it manages to weave the narrative in a very accessible, easy to understand and deeply engaging way. At the same time, providing a number of illuminating, counter-intuitive conclusions that only a deep, unprejudiced and honest researcher can reach."
 
Huffington Post
"100 Plus lays out the lifespan conundrum in engaging detail.... The book is chock full of stories featuring new medical and technological innovation."
 

George Church, Professor of Genetics, Harvard Medical School
"This much-needed book beautifully integrates the history and science (even genomics) of extending our healthy years. Arrison presents the latest of diverse data types in a very clear and engaging manner. I can hardly wait for a potential sequel—200 Plus, anyone?"
 
Matt Ridley, author of The Rational Optimist
"Sonia Arrison's brilliant account of how and why we will all soon get the chance to live much longer, healthier and more fulfilling lives is thoroughly researched, persuasively argued, elegantly written and rationally uplifting. This is an important and lively book."
 
Peter H. Diamandis, MD, Chairman/CEO, X PRIZE Foundation and Chairman/Co-Founder, Singularity University
"Exponentially growing technologies such as biotech, artificial intelligence, and nanosciences are rapidly deciphering the source code for human beings. I have every expectation that this biological information will yield effective longevity strategies and therapies within the next few decades. Such fountains of youth will impact all aspects of our lives and our society. Arrison's book is a must read for anyone thinking about the future."
 

New Scientist
"[B]rilliant.... [T]he chapters devoted to advances in regenerative medicine and the search for interventions that slow ageing are exhilarating. Growing new limbs, copying internal organs like a Xerox machine, exponential increases in computing power, better eyes and ears—I could read stories like this endlessly. We need such vision to help carry the science forward, and some of the most exciting advances in the scientific study of ageing are forthcoming. Arrison paints a realistic picture of the science driving the next longevity revolution, and makes the case that, if we play our cards right, humanity will reap huge dividends for the effort. In that way, this book is the most comprehensive treatment of the socioeconomic consequences of life extension that I've seen.... [T]he costs and benefits of life extension and, more importantly, health extension, are subjects in desperate need of open dialogue, and Arrison begins this process with elegance and style."

Wall Street Journal
"Ms. Arrison entertainingly chronicles efforts to conquer aging and death from antiquity to today. Food, sex, exercise and alchemy have all been employed to keep the grim reaper at bay. But technology offers the most plausible route, she says, noting that biology and computing are drawing ever closer together with the sequencing of the human genome.... [Her] sunny outlook is infectious."
 
Basic Books, 9780465063765, 272pp.
Publication Date: April 23, 2013
About the Author
Sonia Arrison is a founder, academic advisor, and trustee at Singularity University, located in Mountain View, CA. She is also a senior fellow at the Pacific Research Institute (PRI) and a columnist for TechNewsWorld. As a frequent media contributor and guest, her work has appeared on CNN and in the Los Angeles Times, New York Times, Wall Street Journal, and USA Today.