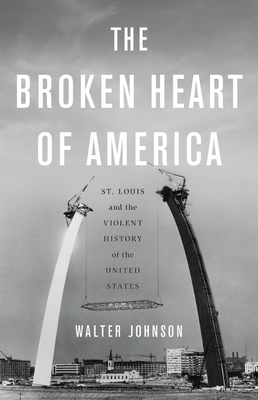 The Broken Heart of America
St. Louis and the Violent History of the United States
Hardcover

* Individual store prices may vary.
Other Editions of This Title:
Digital Audiobook (4/13/2020)
Paperback (7/6/2021)
Compact Disc (4/14/2020)
Description
A searing portrait of the racial dynamics that lie inescapably at the heart of our nation, told through the turbulent history of the city of St. Louis. From Lewis and Clark's 1804 expedition to the 2014 uprising in Ferguson, American history has been made in St. Louis. And as Walter Johnson shows in this searing book, the city exemplifies how imperialism, racism, and capitalism have persistently entwined to corrupt the nation's past. St. Louis was a staging post for Indian removal and imperial expansion, and its wealth grew on the backs of its poor black residents, from slavery through redlining and urban renewal. But it was once also America's most radical city, home to anti-capitalist immigrants, the Civil War's first general emancipation, and the nation's first general strike—a legacy of resistance that endures. A blistering history of a city's rise and decline, The Broken Heart of America will forever change how we think about the United States.
Praise For The Broken Heart of America: St. Louis and the Violent History of the United States…
"When it comes to the history of racism and exclusion in the United States, St. Louis wasn't unique...what it was, Johnson says, was more extreme.... Johnson is a spirited and skillful rhetorician, juggling a slew of historical facts while never allowing the flame of his anger to dim.... As he ably shows, so much exploitation lies in the details."—New York Times

"Johnson's insistence on rooting today's racism in yesterday's conquest of indigenous people and enslavement of kidnapped people from Africa makes The Broken Heart of America a book for our times."—Los Angeles Review of Books

"Readers of The Broken Heart of America will never view the history of the region the same way again."—St. Louis Post-Dispatch

"The Broken Heart of America is an outraged dissection of a malignant pattern Johnson discerns in the way white St. Louis treated Native Americans and then Blacks.... Comprehensive and convincing in its particulars."—Boston Globe

"Beginning with the imperial dreams of William Clark and ending with the protests and freedom movements of organizers in Ferguson, Johnson encapsulates America's dreams and contradictions."—Smithsonian

"In his compelling and enlightening book, Johnson connects past and present, calling for a reexamination of urban life and the fundamental problems of this most American of cities."—National Book Review

"A grim history that details the triumphant expansion of a virulent and violent racialized capitalism."—Dissent

"This book is a magisterial history of the emergence and development of racial capitalism and the rise and decline of American empire examined through the lens of St. Louis. The complex dynamics of eviction, extraction, and exploitation as well as resilience and resistance are laid bare from the indigenous city of Cahokia in the eleventh century (larger than then London) to St. Louis, a frontier post and later metropolis of the US western empire. From ruling class elites Thomas Hart Benton and Harland Bartholomew and oppositional artists Kate Chopin and Tef Poe to black and socialist insurgents, The Broken Heart of America tells the best story of America that we have in the spirit of W.E.B. Du Bois. Walter Johnson is one of our very few great US historians!"—Cornel West

"Walter Johnson has written a magisterial book. Using the sordid history of St. Louis, he weaves a tale of violence and betrayal -- a story of the removal of peoples and the taking of land by force and by zoning -- that helps the reader understand the glaring contradictions that define the United States today. Even the killing of Michael Brown in 2014 must be understood against the backdrop of the long history of greed, extraction, and racism that shaped the city of St. Louis and this country. The Broken Heart of America isn't a dispassionate treatment of historical facts: Johnson has written a searing history that matters deeply to him, a native son, and it should matter to all of us."—Eddie S. Glaude, author of Begin Again: James Baldwin's America and Its Urgent Lessons for Our Own

"When it comes to understanding the power dynamics that sparked the Ferguson Uprising in St. Louis, this is absolutely the most important book you'll read. Walter Johnson has a Baldwin-esque ability to describe the raw emotions of Black life in the city. With stories heartbreaking yet riveting -- told by someone brave enough to share them -- he exposes the history of white supremacy and capitalism, class struggle and race, and Black rebellions both before and after Ferguson. In the era of fake news and mock revolutions, this book is the truth."—Tef Poe, musician, activist, and cofounder of Hands Up United
Basic Books, 9780465064267, 528pp.
Publication Date: April 14, 2020
About the Author
Walter Johnson is Winthrop Professor of History and Professor of African and African American Studies at Harvard University. A Missouri native and author of the critically acclaimed Soul by Soul, which won numerous prestigious awards,and River of Dark Dreams, he lives in Arlington, MA.

or
Not Currently Available for Direct Purchase