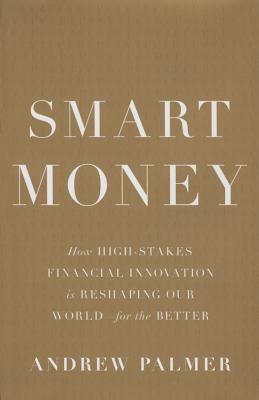 Smart Money (Hardcover)
How High-Stakes Financial Innovation is Reshaping Our World-For the Better
Basic Books, 9780465064724, 304pp.
Publication Date: April 14, 2015
* Individual store prices may vary.
Description
Seven years after the financial crisis of 2008, financiers remain villains in the public mind. Most Americans believe that their irresponsible actions and complex financial products wrecked the economy and destroyed people's savings, and that bankers never adequately paid for their crimes.

But as Economist journalist Andrew Palmer argues in Smart Money, this much maligned industry is not only capable of doing great good for society, but offers the most powerful means we have for solving some of our most intractable social problems. From Babylon to the present, the history of finance has always been one of powerful innovation. Now a new generation of financial entrepreneurs is working to revive this tradition of useful innovation, and Palmer shows why we need their ideas today more than ever.

Traveling to the centers of finance across the world, Palmer introduces us to peer-to-peer lenders who are financing entrepreneurs the big banks won't bet on, creating opportunities where none existed. He explores the world of social-impact bonds, which fund programs for the impoverished and homeless, simultaneously easing the burden on national governments and producing better results. And he explores the idea of human-capital contracts, whereby investors fund the educations of cash-strapped young people in return for a percentage of their future earnings.

In this far-ranging tour of the extraordinarily creative financial ideas of today and of the future, Smart Money offers an inspiring look at the new era of financial innovation that promises to benefit us all.

About the Author
Andrew Palmer has worked at the Economist since 2007, and was its finance editor from 2009 to 2013. He is currently the Business Affairs editor at the Economist, where he is responsible for coverage of business, finance, and science. He has a master's degree in international relations from the London School of Economics and lives in London.

Praise For Smart Money: How High-Stakes Financial Innovation is Reshaping Our World-For the Better…
Bookforum
"Careful and sensible… As someone who was thrown into the deep end of business reporting at the onset of the global financial crisis, [Palmer] is acutely aware of just how dangerous finance can be."
Robert Shiller, author of Finance and the Good Society
"
Smart Money
is an entrancing story about what is new and exciting—but almost invisible for most of us—in twenty-first century finance. A real inspiration for idealistic entrepreneurs, and for members of the finance and insurance profession who have felt humiliated by the financial crisis."
Edward Glaeser, author of Triumph of the City: How Our Greatest Invention Makes Us Richer, Smarter, Greener, Healthier, and Happier
"This engaging and informative book provides a much needed rebuttal to the post-2007 hostility toward all forms of financial innovation. Andrew Palmer takes us on a tour of today's financial innovations, from social impact bonds to peer-to-peer lending, that illustrates the upside of creative finance. This book is crucial (and fun) reading for anyone who wants to understand both sides of the argument about financial regulation."
New York Times Book Review
"Fascinating… Palmer is a muscular, efficient writer; he relates in-person interviews and statistical evidence with ease and humor. [His] vignettes show how innovation can, and should, involve more than bankers getting rich, playing games and dodging rules."

Wall Street Journal
"A scintillating brief for financial invention… a cheerful and lucid Cook's tour."

Breakingviews
"[Palmer's] optimistic perspective is refreshing… a welcome corrective to the prevailing conventional wisdom."

CHOICE
"A welcome and inspiring counterargument to the post-2008 vilification of the finance industry. Interesting and well-written, the book shines a light on the virtues of financial innovation."

Library Journal
"This book will satisfy the general reader and investor who wants to see the other side of the coin as it relates to financial innovation."

Publishers Weekly
"[An] eloquent manifesto.... This intelligent, balanced study of current innovations in finance does much to exorcise its recent demonization."