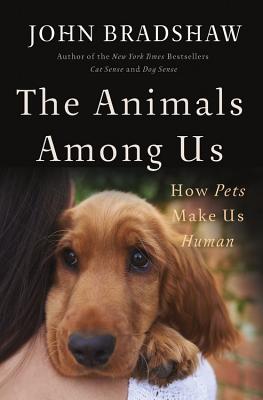 The Animals Among Us (Hardcover)
How Pets Make Us Human
Basic Books, 9780465064816, 384pp.
Publication Date: October 31, 2017
Other Editions of This Title:
Digital Audiobook (10/30/2017)
Compact Disc (10/31/2017)
* Individual store prices may vary.
Description

The bestselling author of Dog Sense and Cat Sense explains why living with animals has always been a fundamental aspect of being human

Pets have never been more popular. Over half of American households share their home with either a cat or a dog, and many contain both. This is a huge change from only a century ago, when the majority of domestic cats and dogs were working animals, keeping rodents at bay, guarding property, herding sheep. Nowadays, most are valued solely for the companionship they provide. As mankind becomes progressively more urban and detached from nature, we seem to be clinging to the animals that served us well in the past.

In The Animals Among Us, anthrozoologist John Bradshaw argues that pet-keeping is nothing less than an intrinsic part of human nature. An affinity for animals drove our evolution and now, without animals around us, we risk losing an essential part of ourselves.


About the Author

John Bradshaw is the foundation director of the Anthrozoology Institute at the University of Bristol, and author of the New York Times bestsellers Cat Sense and Dog Sense and coauthor of The Trainable Cat. He lives in Southampton, England.



Praise For The Animals Among Us: How Pets Make Us Human…
"If you're comfortable with your own animality,
The Animals Among Us
can be your bestiary and breviary. I found Bradshaw's arguments about the domestication of animals and the origins of pet-keeping perfectly convincing; and his conclusion--that we have now co-evolved long enough with dogs, and to some extent with cats, for it to constitute an effective symbiosis --rather comforting."—
Will Self
,
Guardian (UK), Book of the Day
"Bradshaw is a pioneer.... His answer...is richly, empathetically and affectionately respectful of the human-animal bond.... Readers may be less interested in themselves as pet owners, yet this is actually a bolder and more important book."—
Sunday Times (UK)
"Bradshaw knows how to
produce a well-written and accessible tome.... In one of the best and most
thought-provoking parts of his book, [he] dissects the practice of
anthropomorphism as a typically human attempt to understand the animals with
which we live so intimately. He raises important questions about the greater
significance of keeping pets and their benefits."—
New Scientist
"Bradshaw's...gentle warmth and intelligence make the book enjoyable. A sound introduction to a relatively new area of study, both for those who share their households with animals and those who never would."
—
Kirkus
"A marvelous achievement, both scientifically accurate and delightfully accessible. If you like animals, have pets, or are simply curious how and why people and other species interact, you'll learn a lot from this book, and will have a great deal of fun doing so!"
—
David P. Barash, professor of psychology emeritus, University of Washington
"In
The Animals Among Us
, John Bradshaw integrates findings from the fields of anthropology, history, animal behavior, and evolutionary psychology to answer a fundamental mystery -- why do we love pets? Beautifully written by a pioneer in the study of human-animal relationships, this book is an intellectual treat that challenges the way we look at the animals in our lives."
—
Hal Herzog, author of
,
Some We Love, Some We Hate, Some We Eat: Why It's So Hard To Think Straight About Animals
"
The Animals Among Us
reminds us that despite the unprecedented assault by humankind on free-ranging nonhuman animals during the present epoch called the Anthropocene, most humans are inherently attracted to other animals, especially the companions with whom we share our homes and hearts. Best-selling author John Bradshaw rightly argues that when we lose other animals, we lose parts of ourselves. As innate 'biophiliacs,' the chemistry we share with household companions makes us human, and this attraction can help serve to bridge the empathy gap so that we will then extend kindness and compassion to other animals with whom we're less familiar."
—
Marc Bekoff, author of
,
Canine Confidential: Why Dogs Do What They Do
"I read everything John Bradshaw writes. He is the professor you always wish you'd had: knowledgeable yet approachable, engaged and engaging. If you are in any way interested in the underpinnings of the human-animal relationship, this is the book for your bookshelf."
—
Alexandra Horowitz, author of
,
Inside a dog: What Dogs See, Smell, and Know
"What good are pets? John Bradshaw's affectionate investigation puts your favorite ideas to the test of science. We might not get the health benefits that were once thought important, but there are plenty of other reasons to love Fido.
The Animals Among Us
is a fond testament to our companion animals and our extraordinary relationships with them."
—
Richard Wrangham, author of
,
Catching Fire: How Cooking Made Us Human
"Backed up by impeccable research...[an] excellent book.... Bradshaw
provides a convincing case that our fascination with the interior lives of
animals was an essential part of our evolutionary development."—
The New Statesman (UK)
"[John Bradshaw's] new book is unlikely to disappoint many of his fans as he brings a light touch
and endearing personal details to what is actually a systematic and detailed
account of the origin and nature of human-animal interaction and emotional
bonding."—
Financial Times