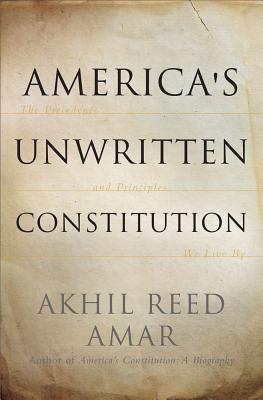 America's Unwritten Constitution (Paperback)
The Precedents and Principles We Live By
Basic Books, 9780465064908, 640pp.
Publication Date: January 6, 2015
Other Editions of This Title:
Hardcover (9/11/2012)
* Individual store prices may vary.
Description
Despite its venerated place atop American law and politics, our written Constitution does not enumerate all of the rules and rights, principles and procedures that actually govern modern America. The document makes no explicit mention of cherished concepts like the separation of powers and the rule of law. On some issues, the plain meaning of the text misleads. For example, the text seems to say that the vice president presides over his own impeachment trial -- but surely this cannot be right. As esteemed legal scholar Akhil Reed Amar explains in America's Unwritten Constitution, the solution to many constitutional puzzles lies not solely within the written document, but beyond it -- in the vast trove of values, precedents, and practices that complement and complete the terse text.

In this sequel to America's Constitution: A Biography, Amar takes readers on a tour of our nation's unwritten Constitution, showing how America's foundational document cannot be understood in textual isolation. Proper constitutional interpretation depends on a variety of factors, such as the precedents set by early presidents and Congresses; common practices of modern American citizens; venerable judicial decisions; and particularly privileged sources of inspiration and guidance, including the Federalist papers, William Blackstone's Commentaries on the Laws of England, the Northwest Ordinance of 1787, Lincoln's Gettysburg Address, and Martin Luther King, Jr.'s "I Have a Dream" speech. These diverse supplements are indispensible instruments for making sense of the written Constitution. When used correctly, these extra-textual aids support and enrich the written document without supplanting it.

An authoritative work by one of America's preeminent legal scholars, America's Unwritten Constitution presents a bold new vision of the American constitutional system, showing how the complementary relationship between the Constitution's written and unwritten components is one of America's greatest and most enduring strengths.
About the Author
Akhil Reed Amar is the Sterling Professor of Law and Political Science at Yale University. The author of several books, including America's Unwritten Constitution, and the winner of awards from both the American Bar Association and the Federalist Society, Amar lives in Woodbridge, Connecticut.
Praise For America's Unwritten Constitution: The Precedents and Principles We Live By…
"Akhil Amar's splendid new book,
America's Unwritten Constitution
, combines an unmatched eye for detail with a unique capacity for overarching perspective and masterfully elegant synthesis. It is a wonderfully readable companion to Amar's unparalleled earlier volume,
America's Constitution: A Biography
. Together, these two works convey as little else can the majesty and sweep of America's constitutional project."—
Laurence H. Tribe, Carl M. Loeb University Professor and Professor of Constitutional Law, Harvard Law School
"In America's Unwritten Constitution, Professor Amar adds to his already masterful bibliography what will instantly become a classic examination of constitutional law. As the Constitution itself stood in need of a seminal biography, so too the vast and varied domain of our Nation's constitutional law cried out for a guidebook. Professor Amar has now brilliantly provided both."
—
Ken Starr, President of Baylor University; Solicitor General of the United States, 1989-1993; Independent Counsel, 1994-1999
"In
America's Unwritten Constitution
, Akhil Reed Amar aims high and has produced a masterful, readable book that constitutes one of the best, most creative treatments of the U.S. Constitution in decades.... [The book] is filled with thought-provoking material and fun vignettes, suitable for a wide audience.... Amar's approach is refreshing.... Amar makes a creative case that America's written Constitution and its unwritten Constitution, since the beginning of the nation, have fit snugly together to form a single, more perfect union."—
Washington Post
"Akhil Reed Amar is a rarity: a progressive law professor who is unafraid of the text of the Constitution.... In his ambitious new book,
America's Unwritten Constitution
, he examines the paradox of needing to go beyond the text in order to faithfully follow the text.... His is a 'holistic' interpretation, one that rejects reading passages or clauses of the text in isolation from the document as a whole. He is masterfully creative in finding overarching themes that tie the disparate clauses together in novel and sometimes counterintuitive ways.... A highly engaging and thought-provoking book."—
Wall Street Journal
"In
America's Unwritten Constitution
, Akhil Reed Amar, a commendably unorthodox and, in some ways, iconoclastic constitutional scholar at Yale Law School, bucks dominant opinions on both sides of the political spectrum. He contends that the written Constitution points to an unwritten one, and he argues that we can interpret with both intellectual honesty and analytical rigor."—
New York Times Book Review
"The Constitution has been described as both binding law and aspirational treatise.... Akhil Amar, a Yale law professor and one of contemporary America's most brilliant constitutional scholars, [suggests] in his latest, and best, book,
America's Unwritten Constitution
, that the issue is not an 'either-or' question.... As a lawyer and constitutional rights activist, I cannot imagine how anybody who cares about the law, and justice, which are not always the same thing, could fail to place this important book at the very top of the must-read list. It's a gem."—
Boston Globe
"
America's Unwritten Constitution
is full of fascinating history, as well as novel and often persuasive analysis.... An ambitious book, and an impressive one. It tackles many of the most important and controversial issues in constitutional law. Amar's arguments are uniformly informative and ingenious.... This book demonstrates with force and clarity that the relation between authoritative written texts of the past and conceptions and practices that have developed over time is a central concern not only of religious doctrine but also of secular law."—
Commonweal
"[An] ambitious work.... Amar's great contribution is to relate some of the great thematic developments of constitutional history to the words of the Constitution itself....
America's Unwritten Constitution
is not a treatise intended to guide legal practitioners or political scientists. Its aim is the more majestic one of articulating some of the grand underlying themes of American constitutional law and grounding them in the constitutional text. It aspires to be what Thucydides called 'a possession for all time,' and it succeeds. Readers today, as well as those of future generations, will read it to their profit."—
The Federal Lawyer
"Akhil Amar brings the patience of a historian, the ardor of a lover, and (yes, sometimes) the panache of a conjurer to America's unwritten Constitution. If you want to argue with him, you will have to summon all these qualities yourself. This is a serious and provocative book."—
Richard Brookhiser, author of James Madison
"This book is brilliant, creative, ambitious, comprehensive, imaginative, and thought-provoking. It is a must-read for anyone interested in Constitutional Law."—
Steven G. Calabresi, Class of 1940 Research Professor, Northwestern University School of Law; Co-Founder of the Federalist Society
"This is an engrossing, epic work of enduring importance--not only a treasure trove for scholars of American law, history, and politics, but also an inspiring, empowering guidebook for activists. It compellingly demonstrates how to harness the Constitution's full meaning in order to promote its thrilling vision of liberty and justice for all. No matter what your prior knowledge of this field, and no matter what your ideological perspective, this magnificent book will enhance your understanding and appreciation of our cherished Constitution. If I had to choose a single work to recommend to either my constitutional law students or my civil libertarian colleagues, this would be it."—
Nadine Strossen, former president, American Civil Liberties Union; professor, New York Law School