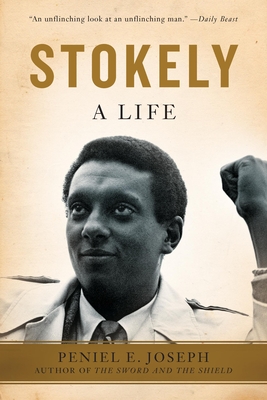 Stokely (Paperback)
A Life
Civitas Books, 9780465065585, 432pp.
Publication Date: February 9, 2016
* Individual store prices may vary.
Description
Stokely Carmichael, the charismatic and controversial black activist, stepped into the pages of history when he called for "Black Power" during a speech one Mississippi night in 1966. A firebrand who straddled both the American civil rights and Black Power movements, Carmichael would stand for the rest of his life at the center of the storm he had unleashed. A nuanced and authoritative portrait, Stokely captures the life of the man whose uncompromising vision defined political radicalism and provoked a national reckoning on race and democracy.

About the Author
Peniel E. Joseph is a professor of history and the director of the Center for the Study of Race and Democracy at Tufts University. He lives in Somerville, Massachusetts.
Praise For Stokely: A Life…
Counter-Punch
"Peniel E. Joseph's newly published biography of Black liberation activist Stokely Carmichael not only takes its rightful place next to Taylor Branch's epic trilogy
The King Years
, but also to one of the most powerful autobiographies by any American: Stokely Carmichael's own
Ready For Revolution
....
Stokely: A Life
is a quality read. By highlighting the life of one of the US civil rights/black liberation most important organizers and thinkers, Peniel E. Joseph has done a great service to history and to the people Stokely fought for. Furthermore, Peniel's text has lifted Carmichael out of an obscurity he not only didn't deserve, but which also prevented a more complete understanding of a man who, with Malcom X and Martin Luther King, Jr., deserves to be recognized as one of the great leaders of one of the greatest grassroots movements for liberation in history: the Black freedom struggle in the United States."
Afro-American
"Meticulously-researched and painstakingly-detailed,
Stokely: A Life
is a fast-flowing, informative read which intimately follows its subject from the cradle to the grave in absorbing fashion. In the process, this powerful portrait effectively re-positions him as an uncompromising prophet who played a pivotal role in the struggle for black equality."
Post & Courier
"A thorough and engaging account of one of the most important figures of the civil rights movement.
Stokely
achieves its primary goal of restoring Carmichael to his rightful place in the pantheon of influential Americans.... Offers delicious details, thoughtful analysis and a good amount of drama concerning this enigmatic figure.... Joseph's landmark book is the best portrait yet of this important, complicated man and the America he so wanted to love but could not."
Daily Beast
"An unflinching look at an unflinching man."
2014 winner of the Benjamin L. Hooks Institute for Social Change National Book Award

Daily Beast Best Books About the Volatile 60s

New York Times Book Review
"An insightful, highly engaging and fluently written biography"

Washington Post
"Joseph's account of Carmichael's life is well-written and well-researched, providing persuasive explanations for his appeal.... Joseph's biography fills a huge void and is a welcome addition to the scholarly literature on the civil rights movement."

Boston Globe
"This is at its heart a book of ideas — ideas about power, freedom, and identity — and of a life, the author writes, that 'took shape against the backdrop of a domestic war for America's very soul.'"

Pittsburgh Post-Gazette
"Mr. Joseph's detail rich biography delves into the life of a political activist turned icon while not forgetting to show us his human side."